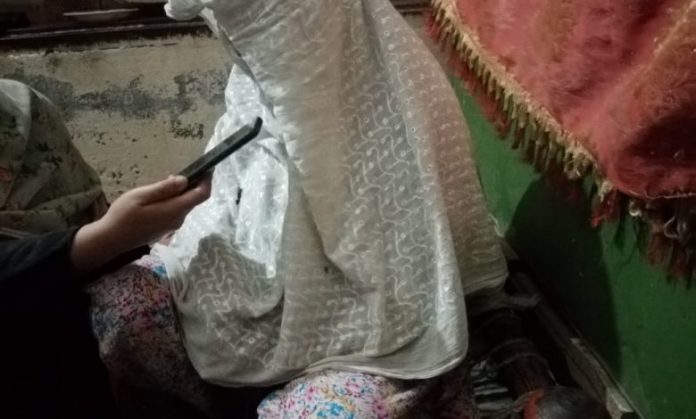 Hina Wajid
MARDAN: "Our income has been affected badly due to coronavirus lockdown and I go to the houses of people to find work to make ends meet."
This was stated by Nihar Bibi from Mardan who says now many people don't welcome her at their houses due to increased rate of coronavirus. She says she has three sons and two daughters and they live in a rented house. She says she pays Rs4,500 as monthly rent which is a very difficult task for her under the current circumstances.
"We were managing things well before the lockdown as my sons used to earn livelihood during day time," she said, adding that the lockdown always affects the poor, and the rich are not so affected.
Nihar Bibi says one of her sons works at a shop of pikoras and samosas, while the other is a labourer. She says police has closed the shop of her son and the other son also cannot find work due to lockdown so her family is under great difficulty.
Owing to alarming increase in coronavirus cases in Mardan, the district administration had imposed complete lockdown from April 26 till May 02. This lockdown was limited to Mardan only as the positivity ratio had reached 52 percent, the highest in the country.
Nihar Bibi says there is no doubt about the existence of coronavirus, but what a poor person can do under these circumstances. She says lockdown has added to their already disturbed life and they haven't received any aid from the government this time. She said the house where she works is also facing financial difficulties due to coronavirus and they can't help her much.
"This year, Ramazan is difficult. I am praying for end of lockdown because we cannot feed our children if we don't work," she said.
Nihar says she hasn't paid her house rent and electricity bill during the lockdown. She says lack of work and financial constraints have pushed her family to the verge of starvation.
Currently, the government has imposed complete lockdown in the country including Mardan from May 08-16. During this time, there is complete ban on public transport and only shops of essential items are open.
Hits: 1