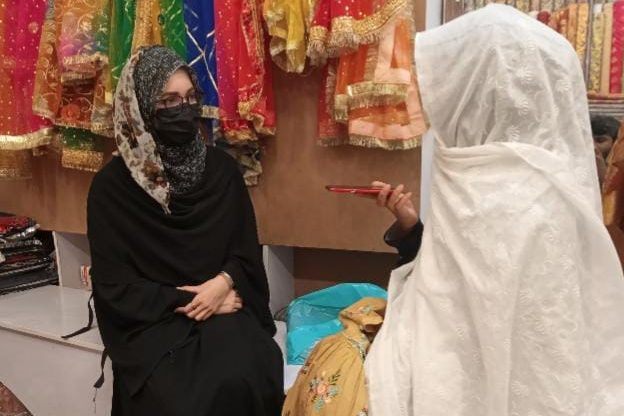 Sidra Ayan
MARDAN: Like other parts of the country, Eid shopping is also continuing in Mardan in full swing, and particularly the women and children are taking keen interest in buying new clothes, shoes and other items.
With reports of another spike in coronavirus cases in some parts of the country, the shopkeepers and customers are facing the same fear of imposition of another lockdown by the government if further increase was witnessed in the infections.
Palwasha from Mardan says lockdown would not affect her this time, as she has completed shopping for Eidul Azha much earlier. She says she could not do proper shopping during Eidul Fitr due to lockdown, but this time she had enough time to do planning for it.
Palwasha, who is a teacher at a private school and head of her family, says situation is no longer normal due to the last three waves of coronavirus. She says she and many other women were apprehensive about another lockdown, so they decided to do Eid shopping for their children before imposition of restrictions.
Shopkeepers also stuffed their shops with all items a month ahead of Eid as they could not afford low sales on Eidul Azha like Eidul Fitr. They seem to be happy this time around as the government is not likely to impose restrictions immediately.
Muhammad Asghar, who is associated with cosmetics business, says while talking to TNN that a large number of customers come to shops during Eid days which create fears of quick spread of coronavirus. He says customers have also learned to live with new scenario and they have now developed tendency to buy necessary items easily before restrictions are imposed. He says if everyone moves forward with precaution and intellect then the business and jobs of people will survive even while fighting the pandemic challenge.
Additional Deputy Commissioner Mardan Nek Muhammad says corona positivity ratio is low in Mardan this time, but this doesn't mean that people get too carried away and abandon precaution. He says another lockdown cannot be ruled out if coronavirus cases spiked again.
Hits: 3