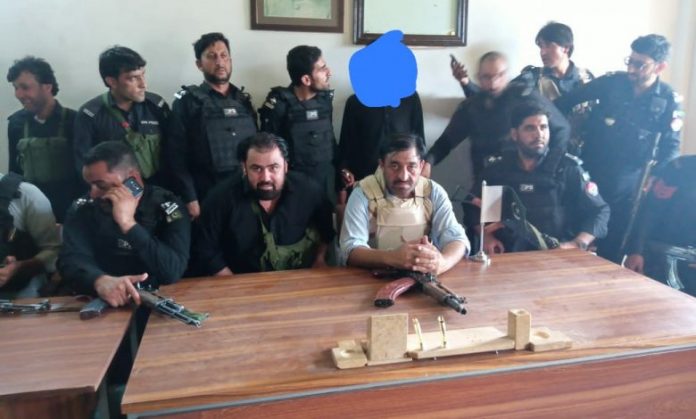 BARA: After remaining at large for several months, the main accused involved in killing of a boy and his sister inside their house during a robbery in Tirah Valley of Khyber tribal district has been arrested.
On a tip off, Khyber district police conducted a raid in the mountainous Zangi area of Tirah and arrested the main accused, Zahidullah. He was wanted to police in the murder of brother and sisters during a robbery, and other crimes.
The people of Tirah have expressed satisfaction over arrest of the person involved in heinous crimes which had disturbed peaceful environment of the area. The local people congratulated the police raiding party and welcomed them by presenting them floral garlands.
District Police Officer (DPO) Wasim Riaz appreciated the policemen and said the arrest of Zahidullah is a good development. He said police will continue to take action against criminals and drug pushers. He said the police have initiated a special campaign against criminals in the area, which will continue till elimination of all crimes.
Local sources said Zahidullah was a habitual criminal and he used to hide in the mountains of Tirah after committing crimes.
The cold-blooded murder of brother and sister in Malikdinkhel area of Tirah in April had drawn sharp criticism for law enforcement agencies. After the incident a massive protest was held in Malikdinkhel. The relatives of the slain brother and sister had also participated in the protest and said they want the previous tribal system back as under the present system, such gruesome incidents have increased.
Shahid, a relative of the slain siblings, told TNN that they were alone in the house when they were murdered. He said the other brothers and sisters and their father were in Peshawar at that time for job. He said there was some jewelry and precious household items in the house when the robbers barged into the house and probably killed the brother and sister upon offering resistance. Shahid said the victim family had no enmity with anyone and the thief escaped with jewelry and agricultural produce.
The local residents had said such kind of gruesome incident had happened first time in their area which created fear and panic, and an atmosphere of insecurity.
Hits: 1