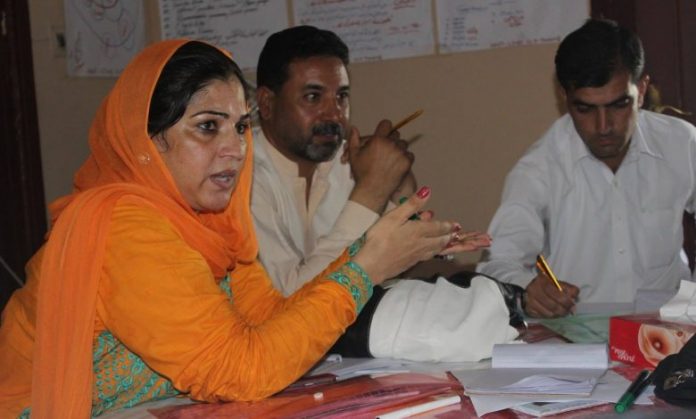 Asma Gul
PESHAWAR: Women all around the world want their present and future to be free of stereotypes and violence as they want to be given long-lasting, peaceful and equal rights like men so that they could excel in any field they want to join.
Going by this principle, women must have say on every important issue, and their presence in decision-making process must also be ensured.
Following these principles, this year's International Women's Day in the world, including Pakistan, is titled, "Women's leadership, achieving an equal future in the world under Covid-19".
In this connection, TNN arranged a special interview with women rights activist Shad Begum, to shed light on this important matter.
TNN: What's your point of view about the current status of women's rights at government workplaces, sports, public health and economic matters?
Shad Begum: I appreciate the efforts that have been made for promoting women's rights at government level for the last few years. Especially, steps have been taken to improve health, education, sports grounds, or the economic position of women, which are commendable steps as compared to the past. This was made possible only because of dedicated efforts of women's rights and human rights organisations.
Because of the prevailing pandemic situation, women suffered a lot for more than a year. According to different statistics, women still don't have access to ideal health facilities. Same is the situation of their financial stability since they don't have the required capital for business. Moreover, they have no access to markets. There are no means to equip women with facilities on modern lines. In such cases, we can't surely say that this situation is satisfactory, but the sectors that are improving with time deserve appreciation.
TNN: What's your opinion about highlighting problems faced by women in the media?
Shad Begum: Though I'm not in favour of highlighting the issues faced by women on social media, but if we take this step then there are positive chances that the authorities would take notice of it. Ever since the issues faced by women have received coverage on social media, we now see that radio, newspapers and TV channels are also focusing more on this than before, which I think is a great initiative.
TNN: What's the current position of gender equality in our society?
Shad Begum: Even in such advanced times our society still needs to work for gender equality and everybody needs to understand it. Even now when it comes to women's rights, majority of our society tends to ignore it. And the major example of this is the Khyber Pakhtunkhwa Assembly's Domestic Violence Act on women's rights, which took 10 years to get approval by the House.
On the other hand, if we see the data collected by several human rights organisations, including the Ministry of Human Rights and the National Commission for the Settlement of Women, the ratio of domestic violence has increased during the lockdown, when people were bound to the boundaries to their homes.
If there a law were already available to prevent domestic violence, the perpetrators of these incidents would have received penalties, but delayed legislation shows that there are still some people in our society and institutions who don't want the protection of women and preservation of their rights. If we don't take women on the journey of development we can't get success at the domestic level and neither will our society prosper.
TNN: Women's social, economic, political achievements are celebrated globally or in developed countries, while practical steps are also suggested to accelerate work on gender equality. What is the reason for the opposite case scenario in our country?
Shad Begum: There is no doubt that women's day is celebrated on an international level, and just like other countries, Pakistan also celebrates 8th March as women's rights day. Women of developed countries feel safe because of the already implemented laws regarding women's rights. But in our case, the organisations working on gender equality seem to be confused about their goals. In such a situation, the government needs to take 50% of the country's population and involve it in the development process.
We acknowledge that several women are present in the houses, working in private as well as public sectors, but on the other hand, we see that the tribal districts of KP have become settled districts. Women are facing a lot of difficulties and to solve these problems we need to know the strategies of government and institutions. We do not see any progress in this regard till now.
To bring improvement to the gender equality movement, everybody including diplomats, religious figures, social workers, youth, journalists and women leaders should come forward.
Shad Begum has received several awards, including the 1994 Food and Culture Award, Best Social Worker Award from the provincial government in 2006, Women's Award on the occasion of international day in 2008, an award from Geneva World Women's Summit, and on 8th March 2012 Shad Begum received the International Women of Courage Award at the State of America from US first lady, Michelle Obama and Secretary of State Hillary Clinton.
And in addition to this, she has also received a Food and Culture Award from the PML-N supremo and former prime minister of Pakistan Mian Nawaz Sharif.
Hits: 0