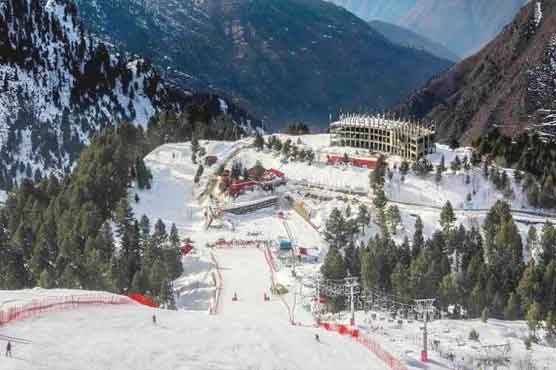 SWAT: In a bad news for tourism and tourists in Khyber Pakhtunkhwa and rest of the country, the Malam Jabba ski resort has been closed by its management after an order by the Peshawar High Court (PHC) barring it from collecting entry fee.
The management of the famous tourist destination Malam Jabba ski resort reportedly charged tourists Rs300 for entry to the resort and nearby areas.
On March 16, 2021 local lawyers had approached the PHC Mingora Bench against the fee charged by the management of the ski resort. In its interim order on April 01, the PHC restrained the Samson Group of Companies, which has invested in the resort, from collecting fees till April 21.
The court said the authorities could not explain under what authority, a private entity was collecting the impugned tax/charges from the general public by installing a barrier on a public road.
The private company announced on Saturday that it is closing its operations as it could not afford to run the resort without entry fee. It also urged the tourists to abstain from visiting the ski resort, which was almost 9,000 feet above the sea level.
The management said it will only reopen the resort after the court removes the restriction. The resort launched facilities such as skiing and chairlift in 2014. It has hosted many festivals and skiing events.
Activities such as chairlift, zipline, and skiing have been closed. The management said the amount earned from all the activities and entry is used to maintain the resort and pay salaries of 500 employees. It said the resort has provided employment opportunities to locals and played a key role in boosting tourism in the area.
Tourists say the entry fee was not only for the resort but for the hills nearby. These tourist places could only be accessed via the resort.
The administration of the sky resort said the land has been leased out to them by the government. The lawyer of the defendants argued that the group has signed an agreement with the government in which they were allowed to charge entry fee.
Tourists have expressed disappointment over the closure of the ski resort and hoped that it would reopen soon after settlement of the entry fee issue.
Hits: 2