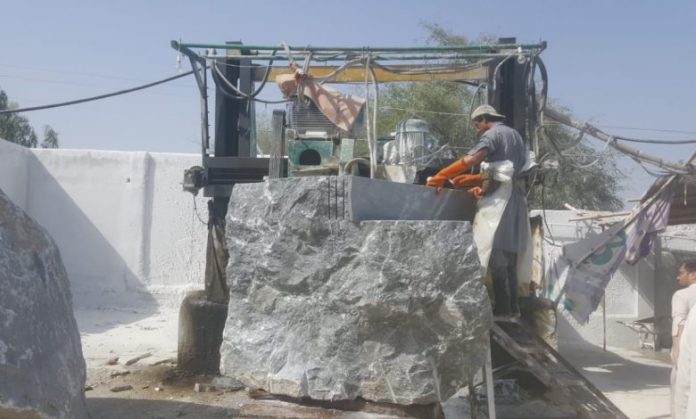 Mehrab Afridi
LANDIKOTAL: The huge marble industry in Mallagori in Khyber tribal district is facing decline due to lack of facilities.
About 10,000 labourers in 276 marble factories are facing joblessness and electricity is provided only for seven hours a day and roads leading to factories are in dilapidated condition.
Geologist Noor Islam said the marble produced in Ziarat is only the second best in the entire world due to its shine and durability. He said the limestone of Mallagori has more cooling effect.
Marble industry is the fifth largest industry in the country. Every factory makes about 35,000 sq ft marble on monthly basis. Every factory pays Rs75,000 tax to government, while the industry also pays Rs30 million in the head of electricity every month. The marble prepared in Mallagori is supplied in the entire country and also in Afghanistan and Gulf countries. Experts say about 7,000 million marble reserves are available in Khyber, Mohmand and Bajaur, and Ziarat marble is the most important in these reserves.
Mallagori Marble Industry Association president Khan Mir told TNN that about 50 percent marble is wasted on the spot due to traditional methods of blasting. He said the production can be doubled if the government provides heavy machinery and save wastage. He said the condition of roads is dilapidated and marble trucks are not allowed to use Michini bridge for the last eight years due to which trucks had to pay Rs10,000 extra in head of transportation charges.
Khan Mir said power supply remains suspended to marble industry for 14 hours during which production remains suspended. He said like other industries, the marble industry of the country must also be provided electricity around the clock to enhance production and save the jobs of labourers.
Marble factories owners Haji Rehmat Khan, Yaqeen Shah, Saeed Khan, Mazar Gul and Gul Faraz told TNN that due to ill planning, the industrial waste and water is accumulated in the industrial area which is a continuous headache for them. They appealed to people in power to correct the state of affairs of marble industries by providing facilities and incentives. They said repair of roads was inevitable to ensure timely and trouble-free transportation.
Hits: 0