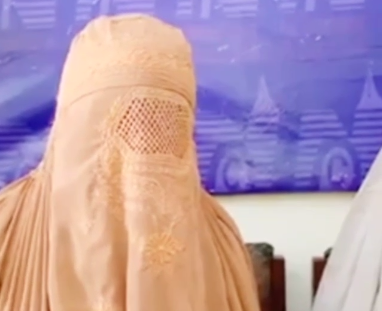 NOWSHERA: In an inhuman incident, a man in Khweshgi Bala area of Nowshera allegedly paraded his wife naked in streets and divorced her over her refusal to indulge into immoral acts for money.
The victim woman said she went to a local police post for complaint, but the police did nothing except assurances of action. She has demanded the government and police high-ups to take notice of the incident.
The victim woman, Bibi Safia, said while talking to journalists at Nowshera Press Club on Wednesday that she was married to Atif Khan one year ago and she and her family came to know very late that he was a drug addict. She alleged that Atif in connivance with his mother asked her to indulge into immoral act for money and upon her refusal tortured her severely, paraded her naked in streets and then divorced her and expelled her from home.
The woman alleged that Atif had some relatives in police that is why the police are reluctant to take action against him. She said the accused is now threatening to kill her.
The victim woman has demanded the provincial government and police to provide her protection and take action against the accused.
Acid attack in Swat
A labourer was critically injured in an acid attack in Mingora Bazaar in Swat on Wednesday.
Police said a labourer from Mardan, Bakhtiar Ali, who was living in a godown in Mohalla Malakanan near Gulshan Chowk came under acid attack inside the godown. The labourer was storing vegetables inside his rented godown when some unidentified miscreants came and threw acid on him due to which he sustained severe burn injuries. The attackers escaped after committing the crime.
The labourer used to sell vegetables in a cart and store it in the godown. He was also using the godown as his living room during night time.
The injured labourer was taken to Saidu Sharif Hospital from where he was referred to Peshawar due to his critical condition. Police have filed a case against the accused and initiated investigation. The cause of the attack could not be ascertained till filing of this report.
Hits: 0