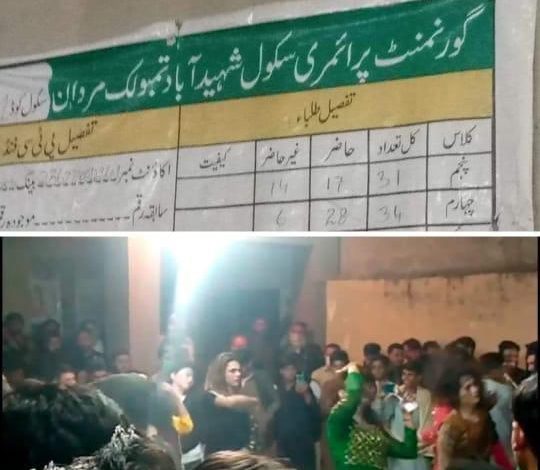 MARDAN: A video of a dance party of transgender persons inside a school in Mardan has emerged which is drawing criticism from citizens.
The music program was reportedly organised at the Government Primary School Shaheed Abad Tamboolak in Mardan district of Khyber Pakhtunkhwa where transgender persons danced with the music and people showered currency notes on them.
The Elementary and Secondary Education Department has taken notice of the viral video and a first information report (FIR) has also been lodged against the watchman of the school. Police are making efforts to arrest the watchman.
It is not first of its kind incident in Mardan. It has been noticed that some people use the school buildings and playgrounds as wedding halls without authorisation. The provincial government hasn't introduced any bill or law to stop the use of educational institutions as gathering places.
In December, 2020, Deputy Commissioner Malakand took notice of a music and dance program of transgender persons at the building of a girls primary school.
The headmistress of the school, watchman and in-charge of Levies post were suspended. The watchman of Government Girls Public School in Ghani Dheri area of Malakand district had arranged a dance program of transgender persons at the school building as part of his wedding function. A large number of people came to enjoy the dance program at the government school building.
The deputy commissioner immediately suspended the watchman, headmistress and local Levies post in-charge.
In November, the headmaster and watchman of a government school in Peshawar were suspended over a dance party inside the school.
Local sources said a dance party was arranged inside Government Primary School Mathra in the night and some people filmed the party and put it on social media which went viral quickly.
Minister for Elementary and Secondary Education Shahram Khan Tarakai took notice of the matter and the district education officer (DEO) of Peshawar issued a notice of suspension of the school headmaster and watchman. An inquiry was also ordered into the incident.
The minister made it clear that no violation of discipline and unwanted activity will be tolerated in the educational institutions.
Hits: 1