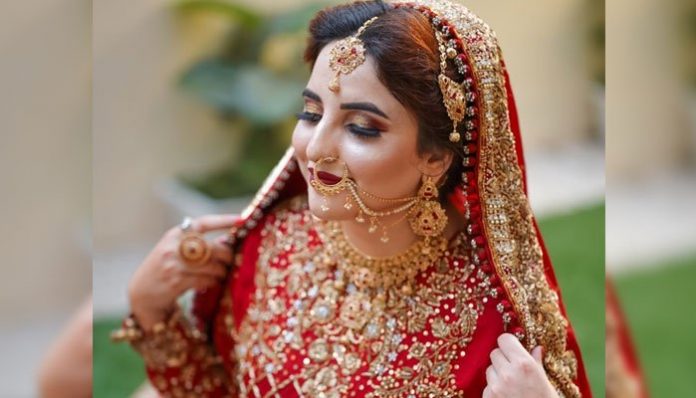 Khalida Niaz
PESHAWAR: Famous TikTok star Hareem Shah has once again become top trend on Twitter, this time for her claim about her marriage with a politician.
Hareem Shah's picture, in which she is wearing a bridal dress, has gone viral on the social media, and she has told a private news channel that she has entered marriage with a parliamentarian of the Pakistan People's Party (PPP), but she has not immediately disclosed his identity. She said the marriage happened last week and she will disclose the name of her husband soon.
Social media subscribers have shown mixed reaction on her announcement about marriage, with some congratulating her, while others just terming it another drama by the 'drama queen' and a publicity stunt.
A Twitter subscriber, named Republictweets, has congratulated Hareem Shah and her husband on getting married.
Congratulations to HareemShah and the unnamed Political leader#HareemShah pic.twitter.com/f03u2sWos2

— Republictweets (@Republictweets1) June 28, 2021
Safa Khan has said this girl (Hareem) is full of drama. He questioned why she is publicising her marriage? A subscriber, Sapna, has termed the groom unlucky, but she wants to know about the groom.
Idk why this girl is much drama and full.of controversies. God if you're married stop publicizing it. #HareemShah pic.twitter.com/Dwu6GWptMF

— Safa Khan (@khansafa11) June 28, 2021
Muhammad Umar Rafiq said the whole media is giving news about Hareem Shah's marriage. He said it seems people have no other important job to do.
https://twitter.com/UmerRafiq45/status/1409443529470926855
M Kamal Danish said Mufti Qavi will quarantine himself after Hareem Shah's picture with her husband.
No one but Mufti Qawi quarantine himself after seeing this …#HareemShah pic.twitter.com/VcVWHzSLN2

— M Kamal Danish (@JeSuisToiMaVie) June 28, 2021
Murshid said we should not discuss the past of Hareem Shah as she has done a good thing and she must be congratulated for her marriage.
https://twitter.com/i_abubakar97/status/1409456983242022912
Some subscribers said Hareem Shah has not entered marriage and she only wants to stay in news by indulging into such publicity stunts.
Claims about the marriage of Hareem Shah also surfaced earlier and it was also claimed that she has a daughter. She has entered controversies several times due to her TikTok videos.
Earlier, Hareem Shah had claimed that Interior Minister Sheikh Rashid has not entered marriage because of her, because his top priority is to look after her. She has made debut of acting in web series Raaz in which she is playing the role of a girl who gets fame through the social media and then she faces several issues.
Hits: 12