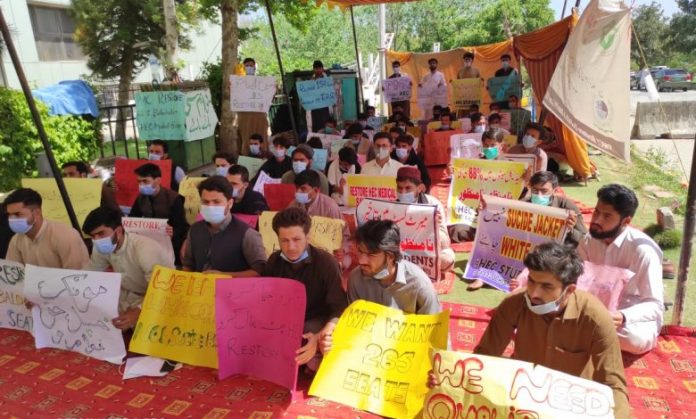 Rifaqatullah Razarwal
PESHAWAR: The students of merged tribal districts and Balochistan protesting in Islamabad for the last five days have demanded the government and Pakistan Medical Commission (PMC) to restore the previous seats for them in medical colleges and universities which have been reduced from 265 to just 29.
The government had announced at the time of merger of erstwhile Fata with Khyber Pakhtunkhwa that the students from these areas will get admission in medical colleges according to previous quota of 265 seats till 2022, but last year this quota was abolished. The protesting students are sitting outside the PMC office in Islamabad for the last five days with banner and placards inscribed with slogans in favour of their demands.
Muhammad Asif Khan, a medical student from North Waziristan, said while talking to TNN that the Higher Education Commission (HEC) arranges a test every year for 265 quota seats and the PMC is bound to adjust these students in medical colleges and universities. He said the PMC has reduced the quota seats for merged districts and Balochistan to just 29 without any reason, which is unjust.
Asif said two protests were earlier staged by student and two official letters were issued for quota increase, but no implementation was made, while the situation is the same during third protest as well. He said the classes of student from open merit have already started on February 01, but it is unfortunate that the students from merged districts and Balochistan are still staging protests for their rights. He said the students will start hunger strike if their demands were not accepted by April 05.
Musavir Khan Achakzai from Balochistan said a resolution was also passed in the Senate on January 10 under which the said 265 quota seats will persist till 2022. About 150 students are participating in the protest and they have run out of money and food and now they are threatening to stage hunger strike.
When contacted, head of National Assembly's Standing Committee on States and Frontier Regions (Safron) Sajid Khan told TNN that the demands of protesting students are genuine.
Sajid Khan, who is PTI lawmaker from Mohmand district, said the committee has raised the issue with PMC several times, but no satisfactory reply has been received. He said he along with PTI MNA from Bajaur Gul Zafar Khan has submitted a privilege motion in the National Assembly on the issue.
Parliamentary Secretary on Safron Iqbal Afridi, who is PTI MNA from Khyber, said action against negligent officials will be discussion during next meeting of the committee. He said the committee would recommend suspension of PMC president over not cooperating on the issue. He said the tribal lawmakers stand with students of merged districts for their rights.
Hits: 1