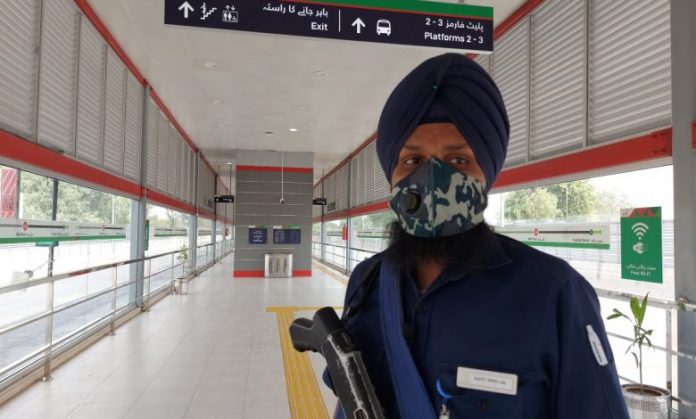 Salman Yousafzai
PESHAWAR: Ajeet Singh, the first ever member from Sikh community to serve as a security guard at Peshawar's Bus Rapid Transit (BRT) project, says he is very happy to serve the people through a respectable job.
Ajeet Singh is a full practicing Sikh who wears a turban and also carries a Kirpan (knife) while performing his duty. He says Kirpan is for personal security and against injustice.
"Kirpan cannot be used against some adversary. It's just a symbol against injustice," he explained while talking to TNN.
Ajeet Singh says he applied for a job in the BRT project on minorities' quota after seeing the advertisement. He said he was lucky enough to be selected for the job. He says he is very happy while performing his duty as people respect him. He says he never faced any kind of discrimination during his duty and he prays that this atmosphere of harmony and respect continues for ever.
"The whole Sikh community enjoy tremendous respect in Pakistan. This friendship is continuing for over 500 years and we won't let this friendship weaken," he said.
Ajeet Singh says his family is associated with the field of herbal medication since long, but recently the youth from the family have started trying their luck in other jobs. He says some of his relatives are doing cloths business, while others are selling cosmetics. He says he got an opportunity to serve at BRT and he is fully utilising this opportunity.
Ajeet Singh says the government has given him 100 percent permission to observe all his religious obligations during duty time. He says a Sikh is incomplete unless he has five things i.e. Kesh (uncut hair, which is kept covered), Kara (an iron or steel bracelet), Kirpan, Kachera (a cotton undergarment), and Kanga (a small wooden comb). He says the Government of Pakistan has allowed Sikhs to perform their professional duties while keeping all these five things along.
Ajeet Singh says Sikh community enjoys permission in the entire world to keep five essential items while performing duties. He says Sikhs can carry Kirpan even in aeroplanes and its only purpose is to promote the message of peace.
Hits: 0