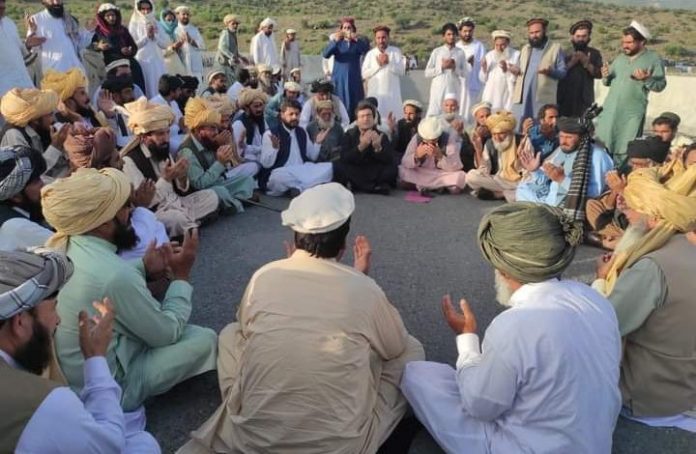 WANA: The Mehsud tribe of North Waziristan and Wazir tribe of South Waziristan tribal district have agreed to cease fire over the long standing land dispute in Negmal area.
The disputed land in Negmal is spanning over 1,500 kanals and it is situated between Ladha tehsil of South Waziristan and Razmak tehsil of North Waziristan. The members of both tribes describe this land as their property and they are not ready to accept the right of rival party. Several clashes have also been reported between the two tribes over the issue in which at least one person lost his life, while dozens of others have been injured.
According to a statement issued by the administration of South Waziristan, both the tribes have agreed to hold fire due to the appeals and efforts of Alternate Dispute Resolution Jirga. Both tribes have also given names of their representatives to the administration for talks on the issue. Wazir tribe has nominated Malik Nasrullah, while Mehsud tribe has nominated Malik Inayat Mehsud as their representatives in the Jirga.
Assistant Commissioner Ladha Farhan Khan said both the tribes have fully empowered their representatives and their decision will be fully accepted to the two tribes. Both the tribes have signed a document in this regard which is also signed by assistant commissioners of Ladha and Razmak.
According to the agreement, the tribal representatives will visit the disputed land site on fifth day of Eidul Azha and monitor the situation on ground and then decide about it afterwards. Both the tribes have assured the Jirga elders to remain fully peaceful till the final decision on land dispute.
The dispute first surfaced in 2011 when Mehsud tribe returned to its land after displacement after military operation Rah-e-Nijat.
Bin Yamin, a member of Wazir tribe, said when the Mehsud tribe came back after displacement, the members of Wazir tribe had occupied their land in Negmal area. He said the Wazir tribes were already residing there, and when the Mehsud tribesmen were out, the Wazirs found an opportunity to occupy their lands, and now they are also making claims on the ownership of forests.
On the other hand, the Wazir tribesmen say this land is owned by them since the beginning.