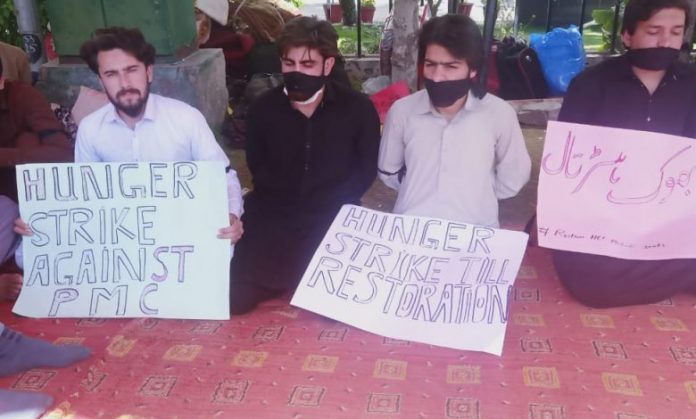 Rifaqatullah Razarwal
PESHAWAR: After a sit-in for 11 days, the students from merged tribal districts and Balochistan have now started a hunger strike outside the headquarters of Pakistan Medical Commission (PMC) in favour of their demands.
Tribal Youth Forum Chairman Rehan Zeb, who is also attending the hunger strike camp, told TNN that it was promised that the students from merged districts and Balochistan would get 265 seats in medical colleges and universities of the country, but this year the PMC has reduced these seats to 29 without any tangible reason.
Rehan Zeb said the students are staging sit-in since March 29, but the government has chosen to look the other way.
"We have run out of money that is why now we have decided to convert our sit-in into hunger strike. We won't hesitate from any sacrifice for attaining our rights," he said.
Rehan Zeb said a delegation of students also met Deputy Chairman Senate Mirza Muhammad Afridi who has assured to take the issue to its logical end.
The students had earlier said that the government had announced at the time of merger of erstwhile Fata with Khyber Pakhtunkhwa that the students from these areas will get admission in medical colleges according to previous quota of 265 seats till 2022, but last year this quota was abolished.
They had said the Higher Education Commission (HEC) arranges a test every year for 265 quota seats and the PMC is bound to adjust these students in medical colleges and universities. They said the PMC has reduced the quota seats for merged districts and Balochistan to just 29 without any reason, which is unjust.
The PML-N Secretary General Ahsan Iqbal, who attended the students' protest, said the government must immediately restore quota seats and scholarships for students of merged districts and Balochistan.
He said reduction of quota seats tantamount to robbing the students of their future. He said the PML-N government had allocated Rs46 billion for HEC, but the present government has reduced these funds to Rs29 billion and the result is that now there are no funds even for salaries of university teachers.
Sajid Khan, who is PTI lawmaker from Mohmand district, said earlier that the committee has raised the issue with PMC several times, but no satisfactory reply has been received. He said he along with PTI MNA from Bajaur Gul Zafar Khan has submitted a privilege motion in the National Assembly on the issue.
Hits: 0