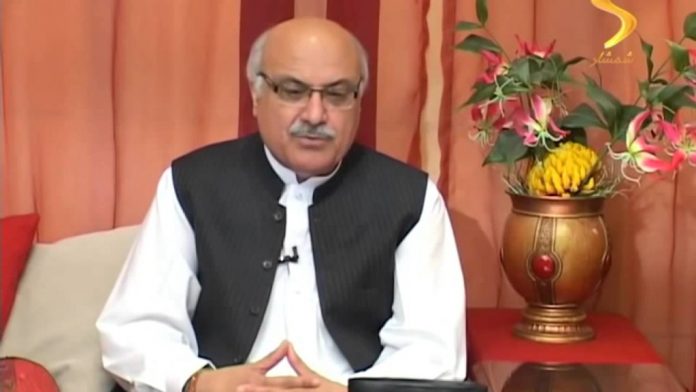 Nadeem Mashwani
NOWSHERA: The Awami National Party (ANP) central secretary general Mian Iftikhar Hussain has refused to become complainant in the murder case of his son.
Sindh Police had arrested banned outfit Tehreek-e-Taliban Pakistan (TTP) commander Abdul Qayyum, resident of South Waziristan, few years ago. The terrorist commander, according to Sindh Police, has confessed to involvement in the murder of Mian Rashid Hussain, the only son of Mian Iftikhar Hussain, and other terror incidents during interrogation. However, the accused pleaded not guilty during court proceedings. Terrorist Abdul Qayyum is also allegedly involved in target killings and terror incidents in Hyderabad city of Sindh.
Police sources said that Mian Iftikhar Hussain has been informed about the arrest of the accused and he has been requested to become a complainant in the case against him. However, according to police, Mian Iftikhar has refused to become complainant. Sindh Police says they have contacted Khyber Pakhtunkhwa Police several times through letters, but no practical step has been taken so far.
Twenty-eight years old Mian Rashid Hussain, the only son of Mian Iftikhar Hussain, was shot dead by terrorists on July 24, 2010 outside his house in Nowshera. Mian Iftikhar Hussain was Information Minister of KP at that time and the case was registered from the State of Pakistan.
Legal experts are of the view that as Mian Iftikhar did not personally lodge the case and the State of Pakistan was complainant, so no question arises now for him to become a complainant.
Karachi Police on January 11, 2012 had reported the arrest to terrorist commander Abdul Qayyum and stated that he was involved in target killings and other terror incidents. Police had claimed that the terrorist had confessed to killing Mian Rashid Hussain during interrogation.
Mian Iftikhar in a recent statement had also stated that terrorist commander Abdul Qayyum had confessed to killing his son and he was also identified in the identification parade. He had said that he was receiving threats of dire consequences for his family in case he continued to follow the case. He had said that he is least bothered about these threats as he doesn't fear death and the only thing he wants is justice for his martyred son.
Hits: 1