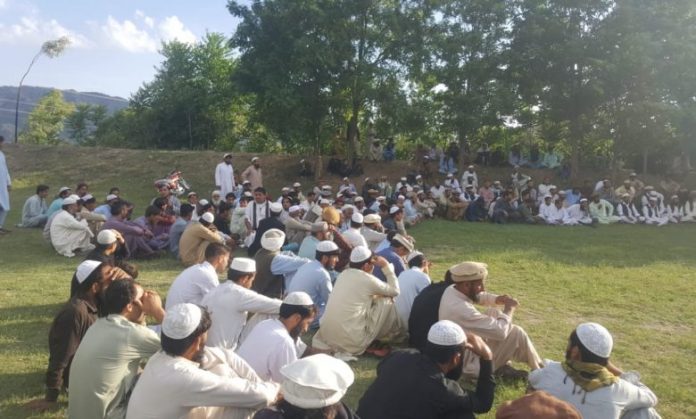 Ali Afzal
PARACHINAR: The people of merged tribal districts, who were hit hard by the wave of terrorism during the last two decades, are still complaining about lack of basic facilities three years after the merger of erstwhile Fata with Khyber Pakhtunkhwa.
The area people offered countless sacrifices in the war against terrorism and faced displacement, joblessness, poverty and a lot of other damages. Even after return to their native areas after displacement, most people are still complaining about lack of facilities.
Demands through tribal Jirga
The tribal elders of Manatu area of Kurram tribal district through a Jirga have demanded the government to immediately launch work on houses which were damaged during militancy and military operations.
Haji Nawab Khan, head of the 15-member committee which was formed at the Jirga for representing the local people, said compensation work is Ali Sherzai area is commendable, and the same kind of work is needed in Manatu, Mandan, Chinar and adjacent villages. He demanded survey of damage assessment in these areas to compensate the affected people. He said hundreds of houses were damaged in these areas during military operations.
Haji Fazal Hanan, a committee member, said during the Jirga that housing is not the only problem of the area residents, as they also lack access to other basic facilities. He said although a basic health unit (BHU) has been set up in Manatu, but it has shortage of health staff and medicines.
Sarwar Khan, a social activist, said rural areas of Kurram are facing problem of clean drinking water supply. He said the problem has now even surfaced in urban areas. He said at least three new tube wells must be set up in Manatu and the road infrastructure must also be developed.
The committee member Mazeed Khan said the government should reconstruct all the damaged schools and establish new schools for boys and girls if it is serious in developing the area.
The Jirga participants said they have extended all kinds of cooperation to the government for restoration of peace in the area and not it's the government's turn to provide benefits of peace to the local residents.
Govt point of view
Deputy Commissioner Kurram Dr Afaq Wazir told TNN that the government is surveying all the affected areas under the Citizen Losses Compensation Program. He said Rs400,000 are being provided to owners of completely damaged houses, and owners of partially damaged houses are receiving Rs160,000 each. He said the government has provided compensation cheques to 7,500 families and survey of the remaining 8,000 houses is underway.
However, the sources said the survey procedure is very slow. The deputy commissioner assured that the demands made during the Jirga would be raised at appropriate forums.
Hits: 29