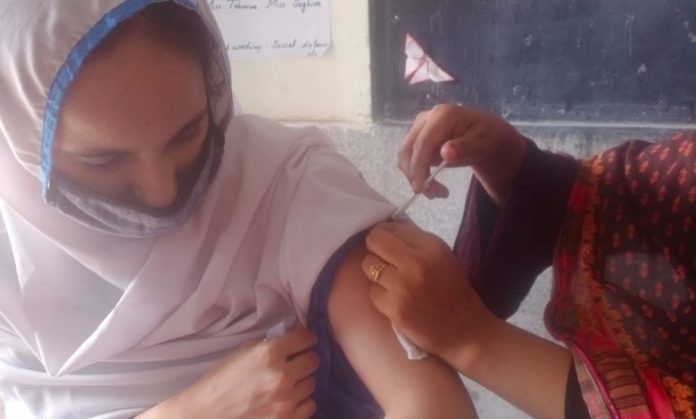 PESHAWAR: Like other parts of the world, misconceptions about coronavirus vaccination still exist despite repeated assurances by the government authorities that the vaccine is totally safe and mandatory to remain safe from the disease.
Some people suffering from lungs or heart diseases say they have been advised by their doctors to not undergo vaccination.
Stephen Masih, who works at Peshawar Airport, said while talking to TNN that he is a heart patient and he fears that coronavirus vaccination may further deteriorate his condition. Stephen said he performs sanitation duties at the airport and now entry is not allowed inside the airport without vaccination which has put him in a difficult situation.
Stephen said his salary might be stopped if he did not undergo vaccination. He said there seems to be no other option for him, but to get vaccinated and then obtain certificate to continue his work.
Health experts say rumours are spread after outbreak of any disease. They say simple people tend to believe in such rumours and then conspiracy theories are built and promoted. They say coronavirus is a reality and those not undergoing vaccination are taking a big risk.
Prof Dr Ihsanullah from Khyber Medical University said there is not even a single disease which gets complicated with the use of coronavirus vaccine. He told TNN that vaccine must not be administered in case of high fever or pain in the body. However, when the patient's condition improves, then the vaccine must be administered.
Dr Ihsanullah said some rumours say pregnant women and those who have undergone kidney or hair transplant must not get corona vaccine, but there is no truth in such assertions. He said the new research show that such people with low body resistance can be given three doses of vaccine.
According to latest data of the National Command and Operation Centre (NCOC), as many as 79,531,641 people in the country have undergone corona vaccination. It has warned people through a tweet to undergo vaccination before October 01 or face strict restrictions.
"Vaccination age limit for general population has been lowered to 12 years. Presently, Pfizer vaccine (2 doses) will be administered to children above 12 years," the NCOC said.
Hits: 13