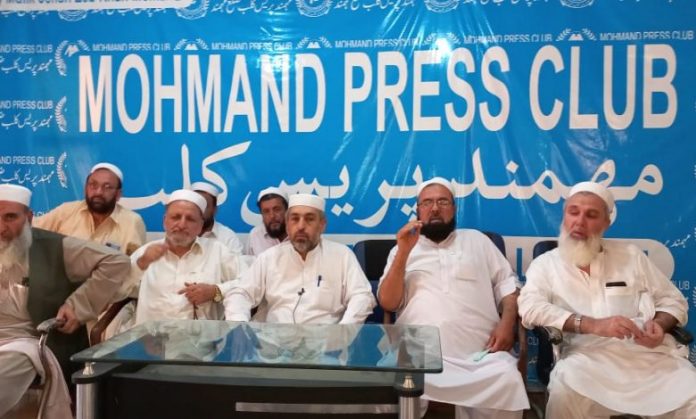 GHALLANAI: The elders of Mohmand tribal district have hailed the decision of the government for restoration of Jirga system in merged tribal districts through Alternate Dispute Resolution (ADR) system.
The Mohmand Grand Jirga leaders including Malik Sahib Haleemzai, Malik Nadir Manan, Ayaz Haleemzai along with elders of Khwezai, Baizai, Utmankhel, Safi and Tarakzai said at a press conference that the people of merged districts have always supported the respective governments in steps for betterment of the country and they would continue to do so proudly in future. They said the Mohmand Grand Jirga has always made tireless efforts for resolving local disputes through talks and to the satisfaction of parties to dispute keeping in view the local culture and traditions.
The tribal elders said that after the merger of erstwhile Fata with Khyber Pakhtunkhwa, the problems of local people were increasing as they had no awareness about the police and judicial system which is now extended to tribal districts. They said the government has taken a timely and correct decision to give a legal shape to the Jirga system through the ADR which will help a long way in providing speedy and inexpensive justice to those people who want to resolve their problems through the Jirga system and express confidence in it.
The Mohmand Grand Jirga members thanked the Khyber Pakhtunkhwa government and Commissioner Peshawar Amjid Ali Khan for understanding the nerve of the people of merged districts and providing them a system through which they can resolve their disputes. They said they will fully cooperate with the government in implementation of reforms process and all the steps for betterment of the area.
The tribal elders said the government must include clean and neat people have impeccable character in the ADR councils to that its decisions are accepted by parties to dispute with open heart. They said the tribal elders are well aware of local culture and traditions and they will find amicable solutions to disputes through their experience and skill.
The ADR system have many admirers, but it also have some critics who believe that it is just a replica of the old Frontier Crimes Regulation (FCR) system and it is unnecessary when the police and judicial system is extended to merged districts.
Hits: 1