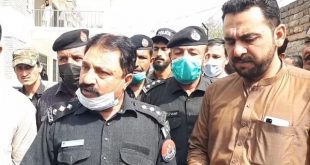 GHALLANAI: The officials of police in Mohmand tribal district have staged a protest demonstration against appointment of 100 outsiders in Mohmand Police.
The protest led by Deputy Superintendent of Police (DSP) Lower Mohmand Pasham Gul was held outside the office of the district police officer (DPO) during which the offices of DPO, DSPs, station house officers (SHOs) and clerical staff were locked and the whole work was stopped.
Pasham Gul said the Khyber Pakhtunkhwa government at the time of merger of erstwhile Fata with KP had signed a 22-point pact with local police according to which officials from other areas cannot be appointed inside merged tribal districts. The pact also guaranteed that the officials of police in merged districts cannot be transferred to other districts.
Pasham Gul said it was clearly written in the agreement that the policemen of merged districts will perform duties in their own districts. However, he said the agreement was being violated now against which the policemen of Mohmand tribal district are staging protest and the scope of protest would be widened if the issue was not resolved immediately.
"If we can stage a sit-in against appointment of an SHO in Kurram tribal district for 22 days then we can also stage sit-in for indefinite period for our own rights," he warned.
The protesting policemen warned that they would continue their protest until the decision of appointment of non-local policemen to Mohmand was not taken back. They said the visit of Prime Minister Imran Khan to Mohmand Dam site was also expected and if they boycotted the visited then it may cause problems for the administration.
After merger of erstwhile Fata with KP, the scope of KP Police was extended to merged tribal districts and it was decided to train the police in tribal districts on modern lines to enable them to cope with the modern day challenges.
After several protests, the former Levies and Khassadar personnel of merged districts were given the full status of KP Police and it was pledged that they would get all facilities like regular KP Police. The training process is continuing in different batches.
Hits: 1