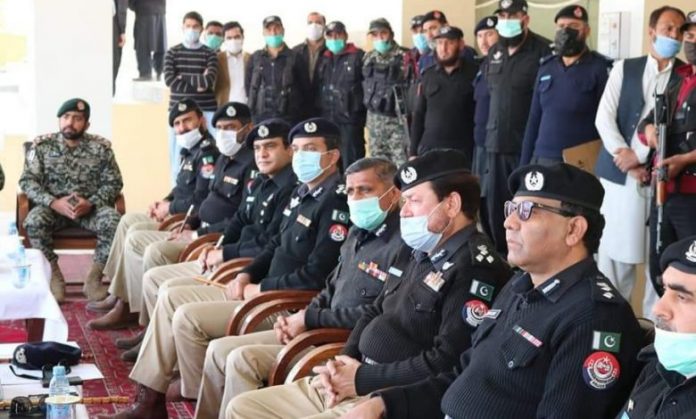 JAMRUD: More police stations and check posts will be established in merged tribal districts with all facilities with the assistance of security forces to strengthen the control and sphere of police force in these areas.
This was revealed by Khyber Pakhtunkhwa Inspector General of Police (IGP) Dr Sanaullah Abbasi during a visit to Khyber tribal district on Tuesday.
Talking to journalists at Shahkas Levies Centre in Jamrud, the KP police chief said members of the former Khassadar force have been fully integrated into regular police. He said training has been imparted to 5,000 policemen in tribal districts by the security forces in the first phase, while 3,000 more personnel would be imparted similar training in the next phase. He said 28 police stations would be established in merged districts with the help of security forces. He said the police system will run in an efficient manner with the partnership of security forces. He said the system of lodging first information reports (FIRs) has been initiated and several people involved in narcotics and creating law and order problems have been arrested. He said the traffic police system in merged districts is also operating in an efficient manner.
As part of the merger process of erstwhile Fata with KP, the Shahkas Levies Centre would be named as Police Training Centre Khyber with Superintendent of Police (SP) Abdul Hai as its first director, Sanaullah Abbasi said, adding that the centre was set up by Frontier Corps (FC) and the KP government handed it over to police for training.
District Police Officer (DPO) Muhammad Iqbal and Commandant Bara Colonel Nadeem Mushtaq gave a detailed briefing to Sanaullah Abbasi about the training courses.
The police chief said the training of policemen from merged districts would help establish the writ of the government in the region.
Sanaullah Abbasi expressed satisfaction over the police training procedures, and said that regular policing responsibilities would be assigned to the trained personnel and they would be equipped with modern weapons to meet security challenges.
The police chief said police in merged districts would get full perks and privileges on the pattern of their colleagues in other districts of KP. He said policemen in merged districts would get promotions on the recommendation of a committee after the completion of the second phase of their training.
Hits: 28