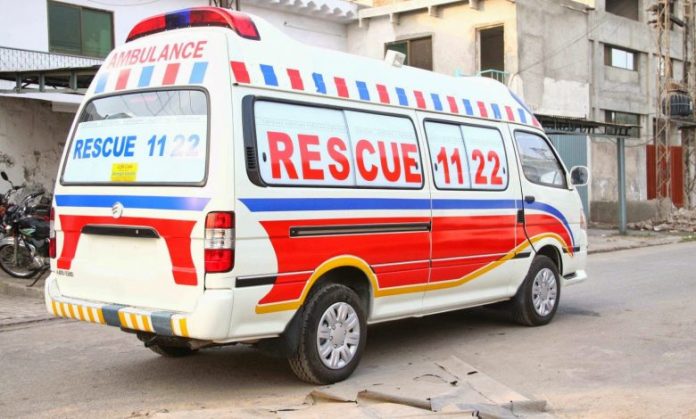 Abdul Sattar
MARDAN: Rescue 1122 service is playing a commendable role in helping the people during emergencies. Fully equipped ambulances immediately reach to help people with just a phone call and provide help. But rescue personnel say some non-serious people abuse their service through fake calls which is like discouraging their spirit.
Rescue 1122 was initially launched in Punjab in 2006 and the KP government also introduced the service in 2012 which got tremendous response. It spread very quickly and now Rescue 1122 stations are operating in 35 districts of KP including merged tribal districts.
Already a debate was made on social media about irresponsible attitude of some people on roads who even don't give way to ambulances in cases of emergencies. And now the issue of fake calls has troubled the rescuers who even sometimes go to the extent of risking their lives for rescuing people in need.
A spokesman for Rescue 1122 said the service reaches immediately in cases of emergency to provide timely aid. But sometimes, rescue personnel face huge disappointment when they reach the emergency spot and find out that there was no emergency at all and the call was fake.
The spokesman shared mind-boggling figures, saying that out of 9,810,874 emergency calls to Rescue 1122 in Peshawar, as many as 6,374,037 calls were found to be fake. In Mardan, 964,134 out of total 4,548,840 calls were fake. Similar is situation in Swat where 579,298 calls out of total 1,061,762 calls were fake. More than half of emergency calls in Mohmand and Charsadda and some other districts of KP were also found to be fake.
It shows the general behaviour of people towards a service which has to perform a very sensitive job for saving lives. This non-serious and irresponsible behaviour is not only against all norms of ethics, but also wastes precious resources of the Rescue 1122 service which already under pressure due to limited budget.
The spokesman said some callers just make calls to Rescue 1122 officials to tease them. He said Rescue 1122 also receives a lot of missed calls just to keep the personnel busy without any reason.
Hits: 13