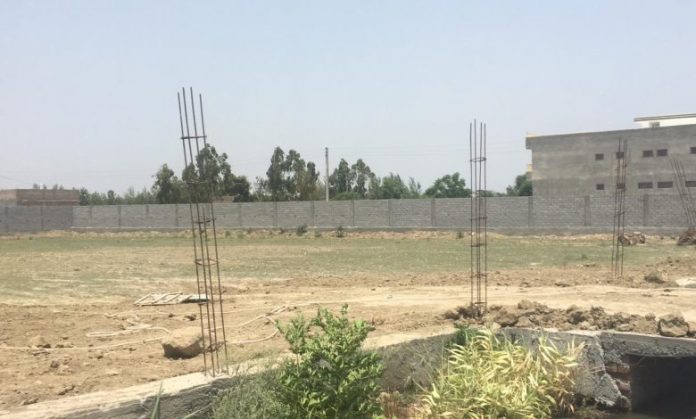 Abdul Sattar
MARDAN: Climate experts say the impact of climate change can be reduced by keeping the environment clean and green, but it is not the case in most parts of Pakistan, particularly Khyber Pakhtunkhwa.
One of the major reasons behind environmental degradation is unplanned urbanisation and construction of housing societies on agricultural lands.
Mardan district of KP is also affected a lot from housing societies on agricultural lands. Tehsil Municipal Administration (TMA) Mardan says there are 16 legal and 18 illegal housing societies in Mardan tehsil. Ten years ago, there were only 10 residential colonies in Mardan tehsil, but now there are 34 such societies. The construction of residential and commercial buildings on agricultural lands is continuing in full swing which is adding to environmental pollution and reduction in agricultural yields.
According to Pakistan Bureau of Statistics (PBS), housing sector witnessed a massive surge during the last two decades. The Site Development Scheme of 2005 has mentioned facilities like access to road, location plan, approval from TMA, no objection certificate from Environmental Protection Agency (EPA) which are mandatory for a new housing scheme, but there is no mention of ban or restriction on constructions on agricultural lands.
It is mandatory to take NOC for a residential colony, but property dealers start work on it in advance and start selling plots. Other rules of construction are also being flouted openly without any restriction.
District Agriculture Director Abdul Qayyum told TNN that speedy constructions on agricultural land in Mardan is a cause of grave concern. He said at least 500 acres of agricultural lands have been used for constructions in Takht Bhai tehsil since 1986. He said all new residential colonies in Mardan are built on agricultural land. He said these housing schemes have no proper drainage system, and polluted water ends up in fields which results in damage to crops. He said the sewerage lies of residential areas have been opened in canals and nullahs and other garbage is also thrown in it which makes the water highly polluted.
The Khyber Pakhtunkhwa government has so far sealed 65 illegal housing societies in different parts of the province. Furthermore, illegal constructions have been razed in 600 housing societies. Notices have been issued to 235 illegal schemes and FIRs have been lodged against 196 others.
Abdul Qayyum said the housing societies reduced agricultural produce and it also added to global warming as crops have been replaced by concrete buildings.
Member KP Assembly from Jamaat-e-Islami Inayatullah has recently presented a bill in the House about protection of agricultural lands. The draft of the bill recommends mandatory permission for construction of housing societies and five years imprisonment and Rs5 million fine for violators.
Hits: 7