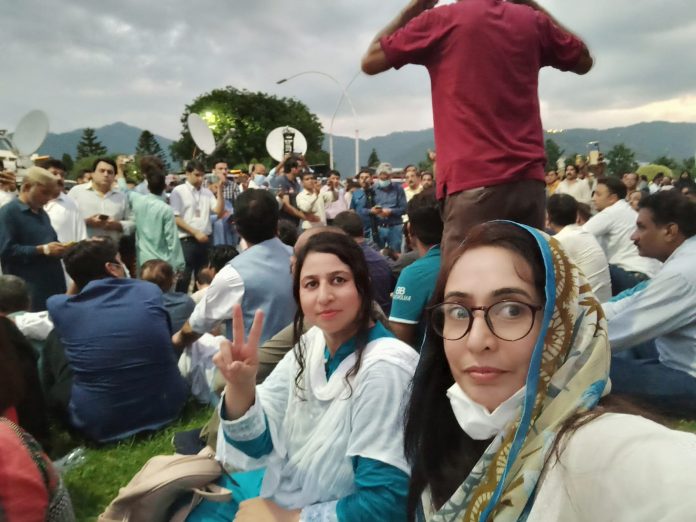 PESHAWAR: The movement by media persons against the government's proposed Pakistan Media Development Authority (PMDA) is gaining momentum as journalists representing different mediums staged a sit-in outside of the Parliament House, while lawyers, rights activists and other people from different walks of life are also raising voice against the proposed law which is deemed as media marital law by its critics.
On Sunday, the opposition leaders from different political parties joined in the sit-in of journalists to show solidarity with them and criticise the government's proposal.
Main politicians who joined the protest included former prime minister Shahid Khaqan Abbasi, PPP leader Farhatullah Babar, Senator Akram Dashti and Tahir Bizenjo of the National Party, and PML-N spokesperson Marriyum Aurangzeb. JUI-F leaders and several members of the National Assembly from Opposition parties also joined the protest.
The opposition leaders said journalism is becoming more and more independent across the globe, while the opposite is happening in Pakistan. They said the countries where the media is not free, its citizens are not free either.
The Human Rights Commission of Pakistan (HRCP) also expressed solidarity with journalists and termed the PMDA a draconian law.
Earlier, different media organisations —the Pakistan Broadcasters Association, All Pakistan Newspapers Society, Council of Pakistan Newspaper Editors, Pakistan Federal Union of Journalists, and the Association of Electronic Media Editors and News Directors — reiterated their stance of rejecting the proposed PMDA vehemently.
They termed the concept as unconstitutional and a move to muzzle the freedom of press and expression by imposing state control to regulate all media platforms under one central body.
The media bodies expressed full support for the PFUJ's demonstration in front of the Parliament House against the establishment of the PMDA.
All media associations in the JAC reiterated their commitment to thwart the government's efforts to legislate for the establishment of the PMDA.
Meanwhile, Federal Minister for Information and Broadcasting Fawad Chaudhry said that the PTI government firmly believed in fundamental and constitutional right of freedom of expression, wanting all stakeholders on board to evolve consensus on the PMDA. He said reservations of media bodies about the proposed law would be addressed with consultations.