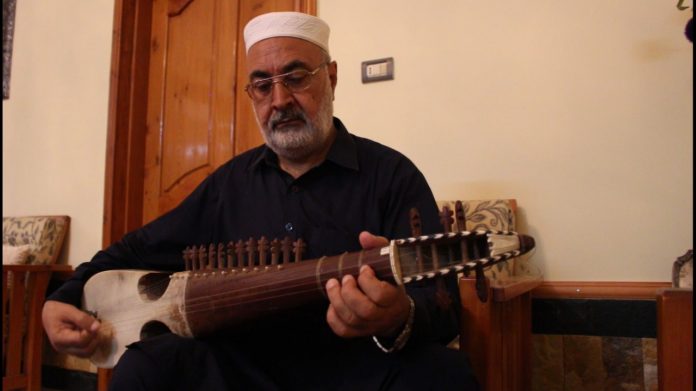 Junaid Ibrahim
MINGORA: Hamayun Masaud from Mingora plays Rabab in the age of 60 at a time when his beard has turned white and he also looks aged, but he takes pleasures in making and sharing videos on social media not to become famous, but to motivate the people and especially the youngsters towards the music and share the message of peace and love.
Hamayun Masaud said while talking to TNN that he was fond of music when he was a teenager.
"Those days I was a college student. I had a friend named Abdul Ghafoor who was a Rabab player. I used to visit to listen the magical sound of Rubab. Then due to my job I went abroad in 1980. After many years a boy from Mingora came to my neighbourhood and he was playing Rabab, I decided to learn and took a start," he said.
In 2003, he came back to Swat, he started arranging Rabab ''Mehfils" (gatherings). Ustad Fazal Rahim was famous those days.
"I visited Ustad Fazal Rahim and decided to learn it properly. He then came to my hujra and we had gatherings. I should be clear that learning music needs a teacher for regular lessons and daily rehearsal is also mandatory," he said.
Hamayun Masaud said due to low available time for rehearsal, he was not a skilled master, yet but tried and still learning. "I can play several songs and raags (tunes). Which learned much of the skill while old age," he said.
Hamayun Masaud is famous writer in Khyber Pakhtunkhwa and Afghanistan, he writes short stories and poetry. He has two books published in Pashto, one book ''Rishtey" includes short stories and his second book "Sta Da Yaad Wagme Khware Shwe" is all about poetry.
To a question, he said he has more work in unpublished form, which he is going to publish soon. He said now youngsters are coming to learn music and paradigm is shifting slowly.
"I see in future more people will love and learn music. In Swat district, there are thousands of Rubab players and learners. In a city which was once known for militancy, now there are many schools and academies of famous Pakhtun singers and instrumentalists and these are prominent learning schools.
Talking to TNN on the current situation of Pashto music, he said the internet has made it easy to learn anything in any language and share anything related to music. "These days, students are learning and they are competing in more good way, they are now learning more in traditional way which is a mandatory for every music student. Now there schools which have some classes of music, and the best thing we have universities and colleges where students get traditional degrees in music field.
Hamayun Masaud said he would like to give a message to those parents who make quit their children form music that music is a more healthy activity, and it is an exercise for brain which brings peace to mind.
Hits: 0