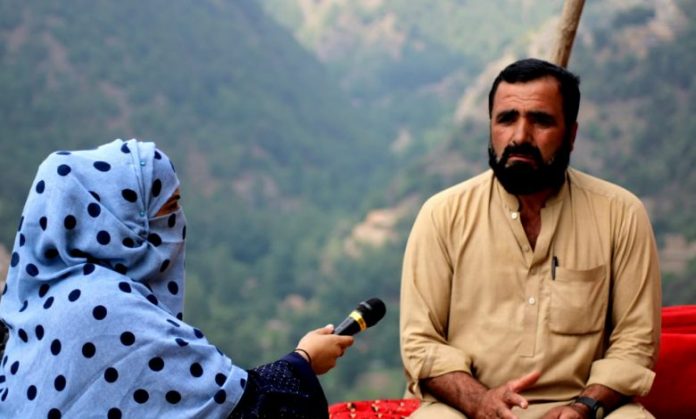 Razia Mehsud
WANA: It was on June 01, 2021 when Shamsuddin, who was in his shop in Tangi Badinzai area of South Waziristan, heard a sound of explosion and someone told him that the blast happened near his house. He rushed towards his house and found that his children were littered in their blood and people were trying to provide some aid to them.
His two sons died in the toy-bomb (grenade) blast and his daughter was critically injured.
"My daughter was unable to open her eyes due to injuries in her face. She asked me to open her eyes but I told her to keep her eyes shut and everything will be alright. She told me that she is leaving me, and that shattered me beyond measure," Shamsuddin told TNN.
He said he saw his two sons dying a terrible death in the grenade blast. He said his seven-year-old nephew had also come from Dera Ismail Khan on that day and he along with other children was playing with his sons and daughter when the blast happened. A total of seven children were playing with the grenade thinking it to be a toy and the blast killed three of them on the spot. Shamsuddin said it was like a Doomsday and his senses were not working. He said he straightly went to a security check post nearby and vent his anger on the personnel and told them that why they are not clearing landmines from the area. They, as usual, replied that a team will come to do it.
The area people then staged a sit-in along with the bodies of the martyred children. The deputy commissioner and other officials then met the sit-in participants and signed an agreement with them after which the protesters buried the bodies.
Under the Jirga decision on June 03, it was decided that the martyred children will get Shaheed Package, and the injured will also get compensation. It was decided that drones would not be used in the area, military checkpost will be relocated and the military will send teams to the area for clearing all landmines.
Shamsuddin said he was told by children that they found a hand grenade when they were bringing back goats after grazing thinking that it is a perfume bottle. One of the children said he would apply 'perfume' to others and opened its lid and an explosion occurred, which killed three children on the spot. He said the incident has left the children in deep shock and they are still unable to come out of it. However, he said, with the grace of Almighty, his daughter is all right now after medical treatment and surgery on her eye.
The mother of the victim children, who wasn't able to speak much, told TNN that she was in DI Khan at the time of the incident. She said she rushed to Waziristan after hearing about it and saw three funerals after reaching the village. She said she can never forget the shock and despair after seeing the charred bodies of her children.
The deceased children's aunt said she was cooking rice for the children upon their request and they were playing outside home when the tragic incident happened. She said that after the incident, the rice was in the pot for three days and no one even touched it. She said no one in the family cooks rice since then because it reminds them of the martyred children's last wish.
Shamsuddin said he hasn't received full compensation from the government yet and the landmines from his area have not been removed fully.
Hits: 0