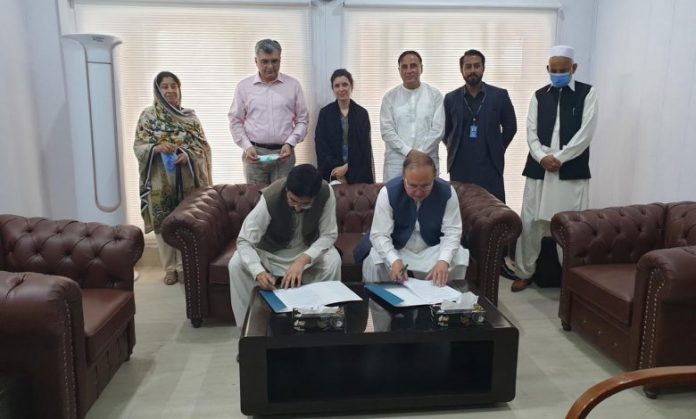 PESHAWAR: The Khyber Pakhtunkhwa Right to Information Commission and the Institute of Management Sciences signed a memorandum of understanding (MoU) Sunday.
The MoU was signed as part of the project 'Claim Your Rights! Campaign – RTI and RTS (Women) Champions Program' being supported by the GIZ Pakistan, says a press release.
Speaking on the occasion, Sajid Khan Jadoon, Chief Commissioner KP Information Commission, underscored the importance of the Commission's work in improving the public access to information in line with the provincial government's agenda for change. While appreciating the support from the GIZ, he stressed the need for creating awareness amongst the people of Khyber Pakhtunkhwa, particularly women, regarding their right to information.
Prof Dr Usman Ghani, Joint Director IMSciences, appreciated the crucial role being played by the Commission and expressed resolve to support it through joint efforts in raising awareness and advocacy amongst residents of the province, particularly women, under the CYR! Campaign project.
Earlier, Commissioner RTI Riaz Khan Daudzai said in a statement that not only the constitution of the Islamic Republic of Pakistan but Universal Declaration of Human Rights ensured the citizens' right of freedom of expression, speech and access to information.
He said transparency without access to information was impossible. He said that in 2013, the RTI Act of Khyber Pakhtunkhwa was among the 10 best laws in the world. He said the right to information ensured transparency and transparency ensured accountability.
Mr Daudzai shared that so far 9,000 applicants had been provided the required information out of the total 20,000 seeking information from various departments and agencies in KP. He said the enactment of the RTI law secrecy no more existed.
The RTI commissioner said people even in the countryside are able to know how much funds are being spent on development schemes in their area and can ask questions from their elected representatives which is a step towards transparency and accountability at grassroots level.
Special assistant to Chief Minister On Information Kamran Bangash earlier said women had submitted 464 complaints under the Right to Information Act. He said majority of the pending complaints were related to the higher education, health, and elementary and secondary education departments.
Hits: 0