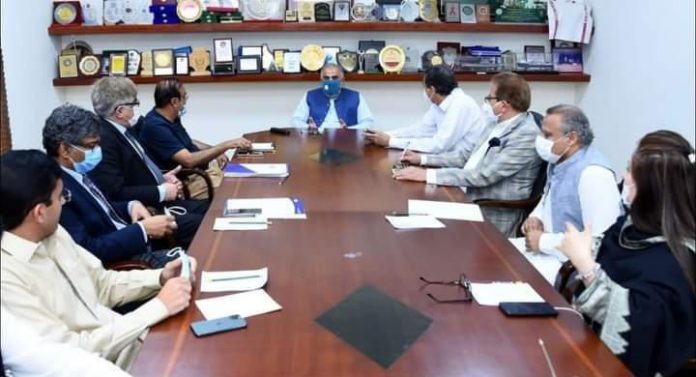 PESHAWAR: The Pakistan government has decided to set up a new terminal at the Pak-Afghan border to promote trade activities.
In this regard Speaker National Assembly Asad Qaiser chaired a meeting in Islamabad on Wednesday which discussed various strategies to promote transit trade through Afghanistan and to improve facilities in this regard. Asad Qaiser said there are tremendous opportunities in trade with Afghanistan and people from both sides could benefit from these opportunities.
The NA speaker said the Pakistan government aims to take full benefit from the available opportunities and in this regard a new terminal has been established at the Pak-Afghan border. He said the new terminal would promote bilateral trade and create job opportunities for people on both sides of the border. He said the terminal will also help in reducing difficulties related to bilateral trade. He said the new terminal would give boost to economic activities. He said the basic aim behind establishment of the new terminal is to provide facilities to people living on both sides of the border.
Asad Qaiser hoped that with rapid industrial development, KP would soon become an industrial province. He said industrial development in KP would improve the overall economy of Pakistan.
The NA speaker informed the meeting about his interaction with the Secretary Commerce about ideas to promote trade with Afghanistan. He issued instructions to concerned departments to ensure timely completion of work on the new terminal.
The officials of the Federal Board of Revenue (FBR) and other relevant departments on the occasion assured full cooperation in timely completion of the terminal. They said the terminal would be made functional soon after its completion.
In September last year, Pakistan opened a terminal for trade with Afghanistan at the Pak-Afghan border in Qila Saifullah district of Balochistan.
Chief Minister Jam Kamal inaugurated the terminal in the border area of Badini.
The local traders had been demanding the opening of a new terminal for trade between the two counties at Badini since long as the Chaman gateway was overburdened due to the Afghan transit trade, import and export and Nato supply for the US troops stationed in Afghanistan.
Hits: 0