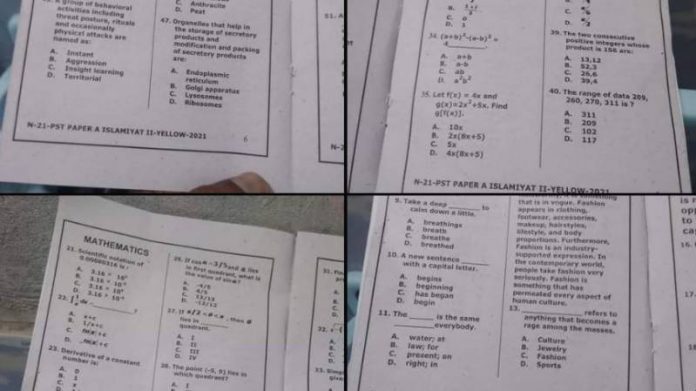 PESHAWAR: Special Assistant to Khyber Pakhtunkhwa Chief Minister on Information and Public Relations Kamran Khan Bangash says the news spread on some channels about cancellation of tests of primary school teacher (PST) over alleged leak of question papers was fake.
Earlier, some media channels reported that the KP government had cancelled papers in 13 districts of the province. It was reported the paper of PST posts would be held again in all the districts where the PST test was cancelled over leakage complaint within the next 15 days.
However, Kamran Bangash, in a tweet clarified that no decision has been taken on the matter yet. He said fake news was circulated by some big channels without verification. He appealed to journalists to verify news with the government before publishing.
Test for PST posts was held on February 07 in different districts of KP, however, ahead of the written examination for hiring, the question paper was allegedly leaked on social media. In Peshawar, some candidates alleged that answer keys were provided to candidates before the paper, which raised a question mark on transparency. The candidates alleged that the merit was openly violated through cheating which is a huge injustice with deserving candidates. The candidates said the provincial government, which regularly claims of upholding merit, must cancel the exam and order the testing agency to hold fresh exams to ensure transparency.
The provincial inspection team and deputy commissioners of the concerned districts were given the task to hold inquiry into the matter and present report to the chief minister within a week. The candidates in their comments on Kamran Bangash's post on Twitter said they are still desperately awaiting for results and hoping for transparency.
The Elementary and Secondary Education Department has given the contract of appointment of different district cadre teaching posts to NTS and it has conducted tests for the posts of senior subject teachers (SST), physical education teachers (PET), certified teachers (CT), Arabic teachers (AT), drawing masters (DM), Qari/Qaria and primary school teachers (PST).
Tests for all seats have been taken and merit lists of SST posts are also displayed. The status of the remaining teaching posts, except PST, remains clear and merit lists will be displayed gradually. However, candidates are showing concern over delay in display of merit lists.
Hits: 1