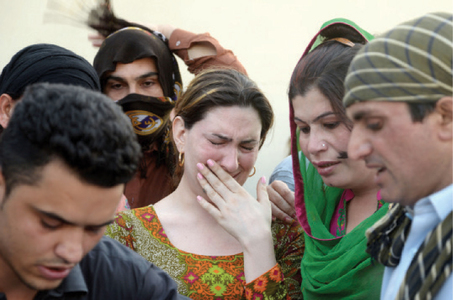 Salma Jahangir
PESHAWAR: Transgender persons grow up while hearing taunts and sarcastic remarks and their whole life goes like this.
According to Blue Veins, a non-governmental organisation (NGO) working for rights of transgender persons, 73 transgender persons have been killed from 2015 to December 2020, 1,500 were sexually abused and 11,000 other reported torture.
Taimur Kamal, who works for transgender rights, said on average, two or three cases are reported daily about manhandling of transgender persons. He said over 1,500 first information reports (FIRs) have been filed with police regarding manhandling of transgender persons in KP.
No authentic data is available about exact number of transgender persons in KP, but different surveys and social institutions estimate their number to be around 50,000.
Blue Veins says in most cases, transgender persons are tortured by their close friends over their refusal to continue 'friendship'.
Namkeen, a transgender person from Peshawar, said transgender persons start facing harsh attitude right from their childhood. She said when a transgender child cannot behave like a boy then her parents scold her. She said even the elder brothers and uncles start torturing transgender persons while trying to change their habits, which is impossible.
Sakeena (supposed name), whose child turned out to be a transgender person, said while talking to TNN that a mother would never torture her child, but she does so due to social pressure. Namkeen said she is also tortured by her guru (leader).
Farzana, president of transgender community in Peshawar, said parents hide their transgender children from guests considering it a disgrace. She said she was handed over to a guru when she was just eight years old. She said transgender persons only learn dancing, and they don't go to school and no one educates them on ethical or moral values.
"When a transgender person is rejected by the community, then she goes to transgender community and it becomes the whole world for her," she said.
Namkeen said transgender person becomes easy target of torture because there is no one to take care of her wellbeing or provide justice to her. She said those involved in crimes against transgender persons are often let off the hook by law enforcement agencies, which causes increased fear among transgender persons and emboldens the criminals.
Provincial Ombudsperson Rakhshanda Naz said two cases of torture with transgender persons have been reported with her so far. She said one case has been taken back, while the other has been referred to Banking Ombudsperson.
Taimur Kamal said although police registers cases and in some cases arrests the killers, but then they manage patch-up with aggrieved party by paying some compensation. He said excesses against transgender persons won't stop until the wrongdoers are punished strictly.
Hits: 1