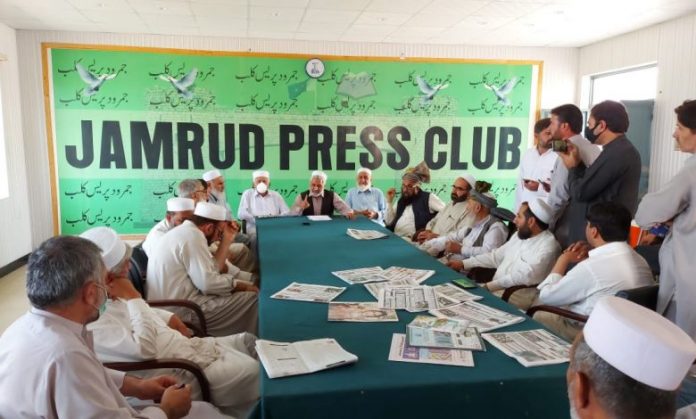 JAMRUD: After rejection of the Alternate Dispute Resolution Act by the supporters of Fata-KP merger, the Act has also been rejected by those who oppose the merger.
The tribal elders associated with Khyber Qaumi Jirga said at a press conference in Jamrud on Sunday that the draft of the Alternate Dispute Resolution (ADR) Act has been prepared without taking the people of merged districts into confidence. They said such a law would further complicate the issues in merged districts instead of solving them. They demanded restoration of traditional Jirga system in tribal districts in its previous form.
Khyber Qaumi Jirga chief Bismillah Khan Afridi, Malik Israrullah Afridi, Malik Tehmash, Malik Wazir, Malik Khalid Akbar Afridi, Gormet Singh and others said at the press conference that the ADR Act in its existing form is unacceptable. They said no proper procedure has been provided for formation of Jirga for dispute resolution, which will prove counterproductive.
The elders said tribal traditions have been ignored completely in the ADR Act. They said no law can be effective in merged districts until it is not in conformity with local traditions and customs. They said the ADR Act is being imposed in merged districts without consent of people in the same manner in which the merger with KP was imposed, which is a joke with the local population and it is not going to work.
The Khyber Pakhtunkhwa government is facing sharp criticism on implementation on Alternate Dispute Resolution Act in merged districts even from the supporters of merger. Critics believe that the ADR Act is just a replica of the Frontier Crimes Regulation (FCR). They are criticizing the provision that the Jirga decision could not be challenged in court and the expenses of Jirga would be received from parties to dispute.
During the Jamrud press conference, the tribal elders said the process of tax collection from people is underway despite the merged districts being declared a tax-free zone. They said non-local people are being appointed on vacant posts in merged districts, which is injustice with the local educated and talented youth. They announced to observe black day in merged districts on May 31 to protest what they termed forcible merger with KP.
Hits: 1