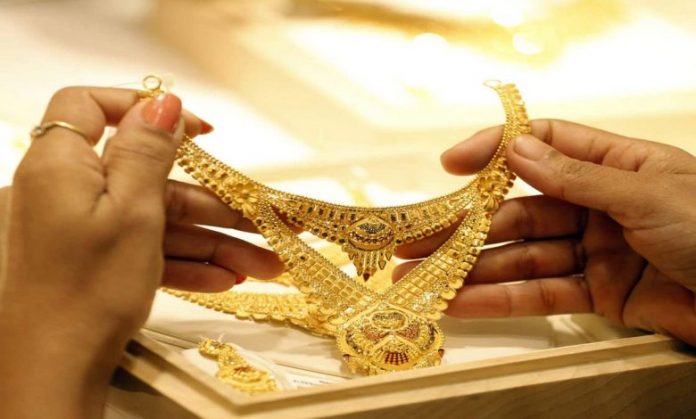 Nisha Arif
PESHAWAR: Noreen from Peshawar loves to wear gold jewellery and she was under the impression that she can get back its value whenever she wants.
However, when she had to sale some jewellery in the time of need, she came to know that the jeweller would cut 25 percent of its cost. An added shock for her was that the weight of gold she came to sold was found to be less than its purchasing weight. She felt cheated as she was told at the time of purchase that the weight of the jewellery was higher.
Andar Sheher Bazaar of Peshawar is known for gold business since long and jewellers working in this bazaar are involved in this business since generations. There are hundreds of jewellery shops in Andar Sheher where precious designs of jewellery are put on display which attracts almost every woman.
Shehzad, a jeweller in Andar Sheher Bazaar, said while talking to TNN that there is a specific style of this business in which the purchasing and sale rates of gold are different. He said current gold purchase rate per tola (24k) is around Rs110,000. However, he said, if someone wants to sale the same gold back to a jeweller, then he would get Rs85,000 for it with deduction of 25 percent.
When asked under which law this 25 percent reduction is made, Shehzad said there is no such law, but the jewellery business is continuing like this for centuries. He said all jewellers adhere to this practice and deduct 25 percent while buying gold from sellers.
Noreen and many other girls are not happy with this formula of jewellers as they believe that this only benefits jewellers and the people buying or selling gold face loss. They say there must be a proper mechanism and law to regulate the jewellery business and to protect the rights of consumers.
However, Alia and some other women still believe that gold is always beneficial. She said she had bought gold jewellery for Rs22,000 per tola few years ago, and now despite 25 percent cut, she is selling it for Rs85,000 per tola.
Hits: 1