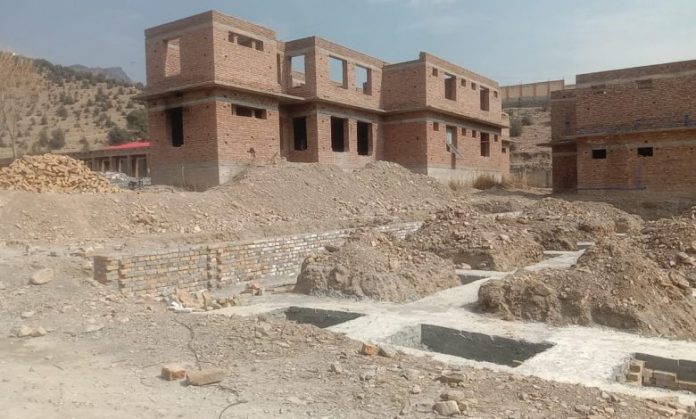 Noor Kalam
WANA: The building of Tehsil Headquarters Hospital in Makeen area of South Waziristan tribal district is being used as a godown for Water and Power Development Authority (WAPDA).
Tehsil Headquarters Hospital Makeen was approved in 2006, but construction work could not be completed during the last 15 years. Due to lack of any hospital in the entire area, the local people are facing difficulties and they had to take their patients to Tank, Dera Ismail Khan and Peshawar for treatment.
Sources said the map of the hospital building shows that it is ready and even the duties are also assigned to doctors, but not even a single injection has been administered to a single patient in the hospital during the last 15 years. The story of sorry state of affairs is not confined to Tehsil Headquarters Hospital Makeen, and other hospitals and health centres in South Waziristan have more or less the same issues.
The government provides medicines, furniture and other equipment worth tens of millions of rupees to basic health units, rural health centres and other hospitals, but the benefit of this did not reach the patients due to incompetence of the hospital administration and district administration, which sits in the Tank compound away from South Waziristan. The local people say the district administration can't deliver by sitting in Tank and it must function inside South Waziristan to resolve the problems of people and improve administration and governance. It is also alleged that the medicines and other equipment provided to hospitals is being sold in markets by corrupt elements and no one is being made accountable for this.
Absenteeism by doctors and other health staff in hospitals in South Waziristan is common, and it is believed that most officials receive salaries while sitting at home. Tehsil Headquarters Hospital Makeen is a 40-bed health facility, but instead of providing healthcare facilities to patients, it is being used as a godown for WPADA.
People of the area have expressed grave concern over the state of affairs of the hospital and demanded the government to take notice of the matter and make the hospital functional as soon as possible to end difficulties of patients.
Hits: 1