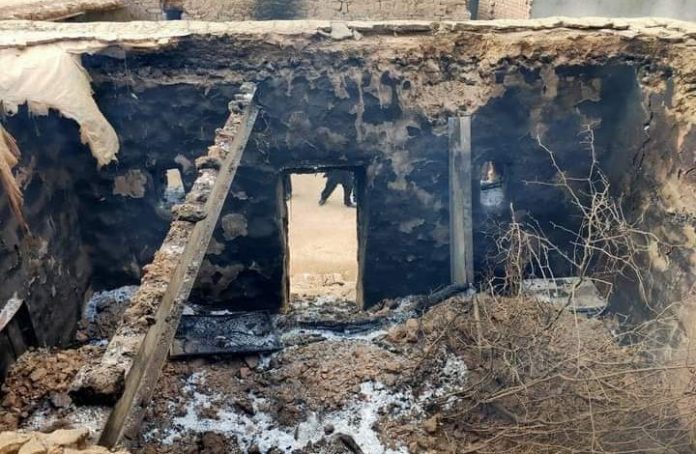 BARA: One person was killed and another was injured, while 17 houses were set on fire as two rival tribes clashed over a land dispute in Akakhel area of Bara sub-division in Khyber tribal district on Tuesday.
TNN correspondent reported that people of Maroofkhel tribe set on fire 17 houses of Mirghatkhel tribe and several people have left the area due to tense atmosphere and fear of more clashes.
Hundreds of tribesmen of Mirghatkhel tribe held a protest demonstration while placing the body on road, and completely blocked the Pak-Afghan Highway.
Local sources said the members of Maroofkhel and Mirghatkhel tribes had taken positions against each other and they had vacated their positions after the intervention of police, but on Monday night the people from Maroofkhel tribe attacked the positions of Mirghatkhel tribe and also set on fire 17 houses.
Firing also took place at the place due to which Abdul Wali from Mirghatkhel tribe lost his life and another person, Zar Malik was injured. The occupants of the 17 razed houses were left under the open sky after the mayhem and they along with many other families had to leave the area and shift to Darra Adamkhel.
Hundreds of members of Mirghatkhel tribe took part in the protest and chanted slogans against the police. Traffic remained jammed for several hours due to which the commuters and transporters faced difficulties.
Member KP Assembly Shafiq Afridi, trade union leader Syed Ayaz Wazir and leaders of different political parties and tribal elders arrived at the protest venue and assured the protesters to resolve the issue through talks in a peaceful manner. The protesters termed the incident result of incompetence of police and administration. They said police has failed to take action over the incident impartially. They also demanded the transfer of the district police chief.
The elders assured the protesters that lawbreakers will face strict action. They appealed both the sides to observe ceasefire and remain calm and trust the elders to find amicable solution to the problem. After the talks, the protesters ended the protest and laid to rest the deceased person.
Hits: 0