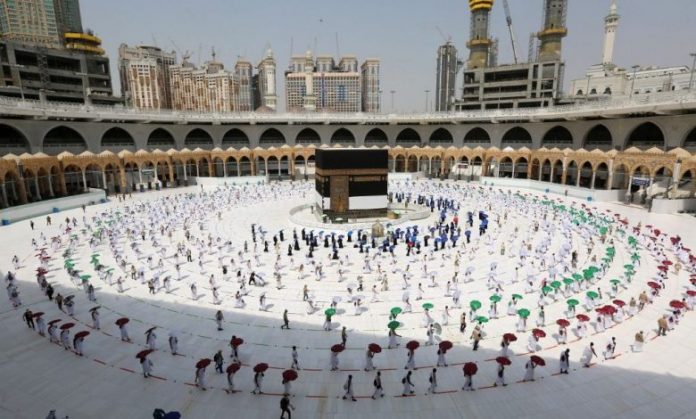 PESHAWAR: The Kingdom of Saudi Arabia has said that only those pilgrims who have received coronavirus vaccine will be allowed to enter the holy mosques.
According to Saudi media reports, the kingdom has announced new terms and conditions for visitors and Umrah pilgrims. The Saudi Ministry of Hajj and Umrah said the new terms and conditions will be effective from 1st of the holy month of Ramazan.
The new guidelines say only the pilgrims who have undergone coronavirus vaccine will be allowed to visit Masjid-e-Nabawi (The Prophet's Mosque) and Masjid al-Haram (The Grand Mosque). It was not clear as to how long this policy will remain in force. It was also not clear whether the policy, which came after rise in coronavirus infections in the kingdom, would be extended to Hajj pilgrimage later this year.
The ministry made it clear that any person who wishes to visit the two holy mosques for Umrah or offering prayers must have received both the shots of the vaccine, otherwise, they will not be allowed to enter the mosques. Even after getting vaccine, all those praying in the mosques will still have to follow the coronavirus protocols of Saudi Arabia. The ministry said the visitors and pilgrims will be allowed to choose the date and time of their visit to the holy mosques contingent upon strict adherence to the coronavirus protocols.
Three categories of people would be considered "immunised" — those who have received two doses of the vaccine, those administered a single dose at least 14 days prior, and people who have recovered from the infection.
So far, the kingdom has reported over 393,000 coronavirus infections and 6,700 deaths from coronavirus. Saudi Health Ministry said it has administered more than five million corona vaccines in a country with a population of over 34 million.
Saudi Arabia hosted the Hajj in late July last year. Only 10,000 Muslim residents of Saudi Arabia were allowed to take part, far less than the 2.5 million Muslims from around the world who participated in 2019. It is not clear yet as how many pilgrims will be allowed for Hajj this year and the situation would become clear only when the Hajj draws near keeping in view the coronavirus situation at that time.
Hits: 0