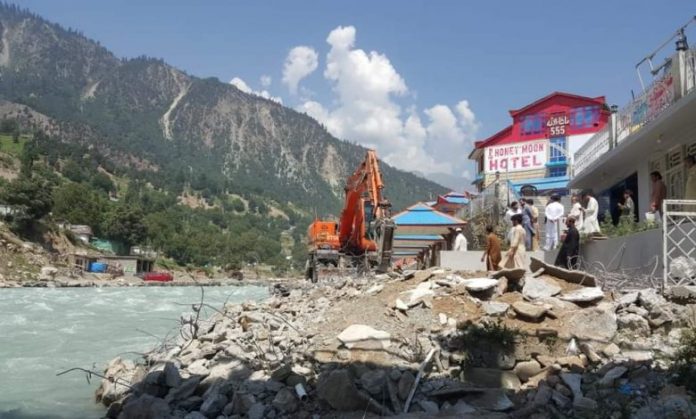 Shehzad Naveed
SWAT: The district administration and institutions have swung into action to protect Swat River and initiated an operation against encroachments and for cleanliness of the river after the issue was brought into their notice through a TNN report.
Swat River is considered a jewel of the valley due to its scenic beauty which attracts a large number of tourists and boosts local economy. However, the beauty of the river was marred during the recent years due to influx of tourists who throw garbage into the river. The increasing number of hotels and crushing plants along the banks of the river, some of them built on encroached land, were also causing pollution in the river and also endangering the living species inside the river.
TNN had highlighted the issue through a video report on June 06 in which problems of Swat River were discussed and put before the public and administration.
Taking action over the report, the district administration of Swat banned illegal digging and extraction of sand from Swat River and then the provincial government, under the guidelines of the High Court, initiated an operation against encroachments from June 15.
Assistant Commissioner Babuzai Shozad Abbas said while talking to TNN that 120 kanals land along the banks of the river has been retrieved by demolishing 30 illegal structures. He said the operation against encroachments will continue and those building illegal structures will have to face action.
Deputy Commissioner Junaid Khan said tourists are welcome in Swat, but those polluting the river will face action.
Khyber Pakhtunkhwa Chief Minister Mahmood Khan, who also hails from Swat, had recently said on the floor of the KP Assembly that no leniency will be shown in operation against land mafia, operation against encroachments will continue, and beauty of Swat will be maintained at all costs.
Water and Sanitation Service Company (WSSC) Swat has also initiated a campaign to clean Swat River, and so far 75 tons garbage has been removed from tourists spots including Kalam, Atror and other areas. WSSC Chief Executive Sheda Muhammad told TNN that a team comprising 40 members took part in the sanitation campaign which was greatly appreciated by local people and tourists.