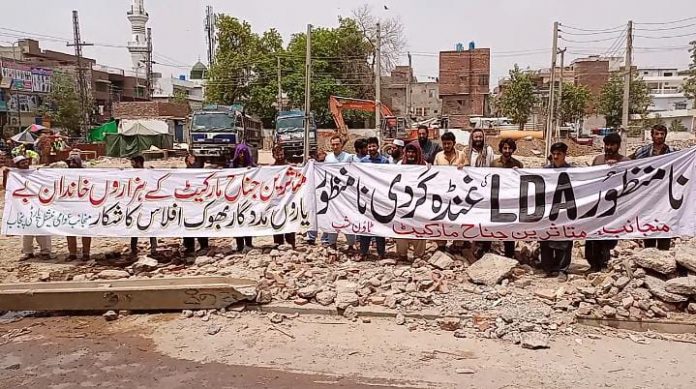 Rifaqatullah Razarwal
PESHAWAR: A large number of shops owned by people from merged tribal districts have been razed in the anti-encroachment operation carried out by Lahore Development Authority (LDA) in Punjab's capital.
The LDA carried out an operation in Jinnah Market in Quaid-e-Azam Township in which 195 small and large shops were razed and most of these shops were owned by people from Swat, Mansehra, Mohmand and Bajaur districts of KP. The owners of these shops have alleged that the LDA razed the shops on a notice of just one day which depicts their 'racial discrimination'. They said a similar market nearby has not been touched as it belongs to people from Punjab.
The LDA officials have rejected the allegations of racial discrimination and said they took action as per law.
Shamsher Khan from Bajaur, who worked in the market for last 26 years, said the land was allotted to vendors in the era of Zulfikar Ali Bhutto to clear the road. He said it was a project under the Punjab Housing Authority and all the shopkeepers paid all taxes and bills. However, he said, the LDA termed them land mafia and razed all the shops.
Shamsher Khan said the shopkeepers were asked to vacate their shops within half an hour which they refused due to which several shopkeepers, including children, were arrested. He said all the 196 razed shops, except eight, were owned by people from KP. He said many people from merged districts, who were displaced in the wave of terrorism, had shifted their business to Lahore and some of them had shops in Jinnah Market.
Fazal Manan, another shopkeeper from Bajaur, was also among those who shifted to Lahore amid militancy in his area. He said his father died while trying to move from Bajaur during militancy in 2008, but after shifting to Lahore, they are still not allowed to carry out their business. He said the people who were once displaced from merged districts are now being displaced from Lahore, as their shops have been razed and they are looking helplessly towards debris.
The affected shopkeepers have called upon the government to provide them an alternate place for carrying out their business activities.
The LDA Quaid-e-Azam Town Director Rafia Nazir while talking to TNN rejected the allegation of racial discrimination insisted that the operation was carried out as per law. She said 195 out of 203 shops allotted in 1987 were allotted illegally. She said operations against encroachments are also continuing in other markets of Lahore. She said commercial trade centres will be established on vacated lands which will be auctioned later in which the affected shopkeepers can take part.