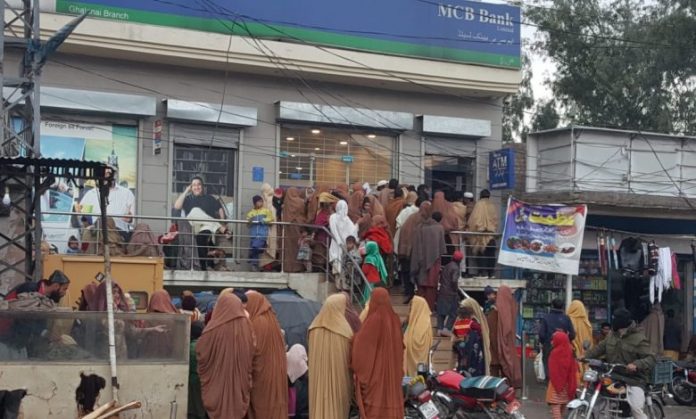 GHALLANAI: The people visiting the citizen facilitation centre (CFC) in Ghallanai, the main town in Mohmand tribal district, are facing difficulties due to mismanagement.
Three CFCs were established for six tehsils of Mohmand district. However, the centre is Yakkaghund had to be closed due to non-availability of building. The people of three tehils of lower sub-division had to cover distance of hundreds of miles to the headquarters in Ghallanai due to which they face many problems.
The CFC Ghallanai administration says such a large number of people visit the centre on daily basis and it is impossible for the limited staff to facilitate all of them. It says the centre serves about 500 to 600 people on daily basis which is a Herculean task. It says all the staff works continuously from 8:00am till 5:00pm without any break. The administration says arrangement for ensuring standard operating procedures (SOPs) regarding coronavirus and making seating arrangements for such a large number of people at the CFC is impossible.
The CFC Ghallani officials say the problem can be solved only after establishment of separate centres for all tehsils.
People visiting the facilitation centre said they face a lot of difficulties. They said they reach the centre at 6:00am with a hope that their turn will come soon, but it doesn't happen. They said sometimes their turn comes in the evening and sometimes it doesn't come at all and they had to come again the next day. They said most people in the area are poor and cannot afford to bear transportation charges. The people demanded the relevant authorities to establish facilitation centres in all the tehsils.
Marble factories shifting
The owners of marble factories on Warsak Road in Peshawar and Shabqadar in Charsadda have refused to shift their factories to the newly-established Mohmand Economic Zone.
The factories at a press conference in Peshawar demanded the government to compensate them before shifting to factories to economic zone. They said the KP government has taken a unilateral decision without taking them into confidence. They said the shifting process of factories would cause huge financial loss to investors.
They warned of protest if the government imposed decision on them.
Hits: 4