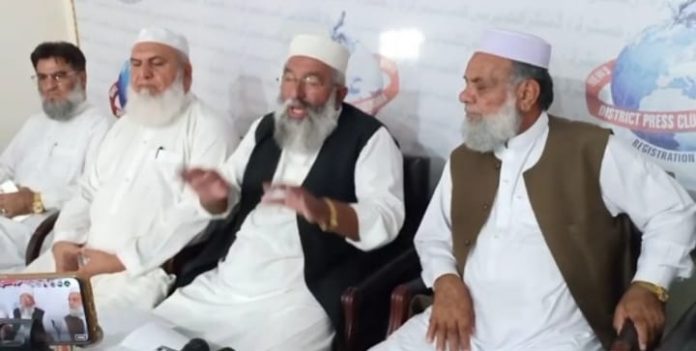 MALAKAND: Overseas Pakistanis on Saturday held a protest demonstration outside Timergara Press Club in Lower Dir over closure of flights to Saudi Arabia.
After the protest demonstration, the protesters also held a press conference at Timergara Press Club. The protest leaders said at the press club that about 1.5 million overseas Pakistanis from Malakand division are stranded due to closure of flights to Saudi Arabia. They said the workers are eager to go to Saudi Arabia to resume their work and earn livelihood for their families, but the flights are still closed.
The protesters called upon the government to take steps for resumption of flights to Saudi Arabia. They said if the situation remained unchanged, then they would be compelled to hold a sit-in in Islamabad.
Former member of Khyber Pakhtunkhwa Assembly from Jamaat-e-Islami Haji Saeed Gul, Lower Dir overseas Pakistanis president Haji Amir Zaman, general secretary Syed Ijaz Shah, Maulana Fazle Rabi, Qari Fazlur Rehman and others were leading the protest. They said overseas Pakistanis are backbone of Pakistani economy as they send valuable remittances through which the country is being run. They said running the Pakistani economy would have been impossible without input from overseas Pakistanis. However, they said the Pakistan government was not taking any steps for resolution of their problems.
The protesters demanded the government to get the flights resumed and arrange free booster vaccination for overseas Pakistanis.
The protest of Malakand division overseas Pakistanis came at a time when the UK government has announced to remove Pakistan from red list of travel restrictions and flights to UK are expected to resume soon. The removal of Pakistan from red list came after strenuous efforts by Pakistan government. Pakistan has hailed the decision of the UK government and those willing to go to UK from Pakistan have taken a sigh of relief.
Earlier, Turkey had also resumed flights after which a large number of people from Pakistan cashed in on opportunity and took connecting flights from Turkey to reach their destinations in the Middle Eastern countries. However, the travelers had to fulfil certain conditions including mandatory quarantine for at least one week or more upon reaching those countries.
Hits: 0