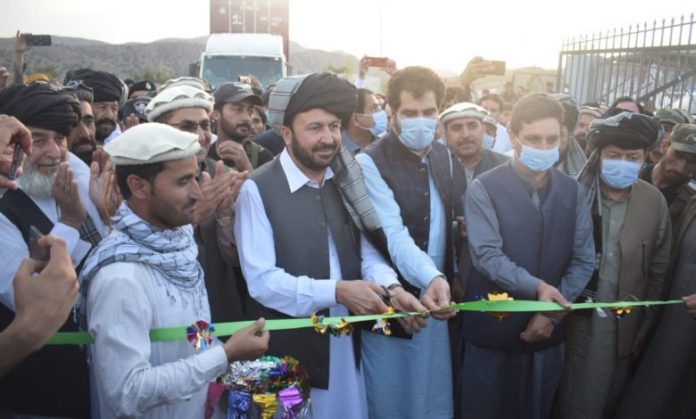 PESHAWAR: The Pak-Afghan Transit Trade was launched on Wednesday from the Ghulam Khan border point in North Waziristan tribal district.
Khyber Pakhtunkhwa Minister for Relief and Rehabilitation Muhammad Iqbal Khan inaugurated the transit trade. Minister for Transport Malik Shah Mohammad Wazir, Deputy Commissioner Shahid Ali Khan, District Police Officer (DPO) Shaifullah Gandapur, military officials, tribal elders and traders of Pakistan and Afghanistan were present at the inauguration ceremony at the border point.
On the occasion, two vehicles of transit trade arrived at Ghulam Khan border point from Karachi which were dispatched for Kabul.
Speaking at the inauguration ceremony, Iqbal Wazir said that opening of the border would help promote trade to Central Asian States through Ghulam Khan border point. He said that the transit trade would usher a new era of development and prosperity in the area while it would also provide employment opportunities to the local youth. He said trade would bring economic prosperity to North Waziristan and improve the living standards of the local people.
Deputy Commissioner Shahid Ali Khan said the project would provide employment to approximately 20,000 local people.
Earlier, Pakistani and Afghan traders welcomed the three-month extension in Afghanistan-Pakistan Transit Trade Agreement (APTTA) and urged both countries to finalise a new trade agreement after taking the business community into confidence on both sides of the border to strengthen trade activities.
The appreciation came at joint meeting of the traders from Pakistan and Afghanistan in Jalalabad, Afghanistan.
The bilateral trade agreement is meant to facilitate the movement of goods between Pakistan and Afghanistan. The accord had expired in February this year. The traders said the extension in the accord would bring economic prosperity to the whole region.
The traders called for increase in the number of scanners at the Pak-Afghan Torkham border and other trade routes besides simplifying the rules and regulations for carrying out smooth bilateral and transit trade.
Traders stressed the need for measures to address the issues amicably. They said the movement of vehicles via Ghulam Khan border was low due to some hindrances. They said long queues of vehicles at Torkham cause delay in clearance of consignments.
Hits: 1