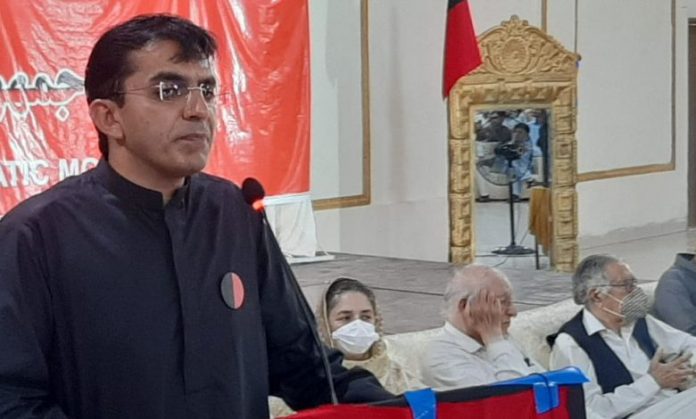 Tayyeb Muhammadzai
PESHAWAR: In Khyber Pakhtunkhwa, the nationalist political parties are witnessing disintegration in shape of emergence of new political parties every now and then, which is not only damaging for Pakhtun cause, but also causing disappointment in political circles.
On Tuesday, a new political party, National Democratic Movement (NDM), was established in the name of Pakhtun nationalism and its main members are MNA from North Waziristan Mohsin Dawar, eminent lawyer Abdul Latif Afridi, Afrasiab Khattak and Bushra Gohar. Most members of the new party were previously the members of Awami National Party (ANP) and held important positions there, but were expelled due to violation of party discipline. These persons were in contact with each other and they established a new party on September 01.
Two other parties of Pakhtuns are also active on the national scene. Aftab Ahmed Khan has formed Qaumi Watan Party (QWP) after leaving the Pakistan People's Party (PPP), while Mahmood Khan Achakzai is leading his own party, Pakhtunkhwa Milli Awami Party (PkMAP) after his father, Abdul Samad Achakzai left the National Awami Party now called ANP. There are some smaller parties also, but these don't have considerable support.
A group in the name of Pakhtun Tahaffuz Movement (PTM) is also active particularly in merged tribal districts and Mohsin Dawar became MNA with the support of PTM. Mohsin Dawar was earlier an active member of the ANP Youth Wing, but left the party for PTM, and now he has formed his own party.
Political analysts are of the view that the new Pakhtun party is unlikely to gain roots in the society and its fate might be the same as that of other splinter parties. In past, PkMAP was established after separation from ANP in 1970's, Afrasiab Khattak formed Qaumi Inqilabi Party in 1980's, Afzal Khan Lala established Pakhtunkhwa Qaumi Party in 1990's, Ajmal Khan Khattak formed National Awami Party in Musharraf era, while Begum Nasim Wali Khan also revolted from ANP and formed her own group. However, except for PkMAP, no other party could gain popularity in the masses and had to return to the ANP fold.
Analysts believe the fate of NDM is expected to be not much different from the earlier splinter parties. It will be difficult for every new nationalist party to break the Pakhtun voters of the ANP, the oldest nationalist party. The other fact is that most prominent people in NDM like Afrasiab Khattak, Bushra Gohar, Jameela Gilani etc. were not elected directly in the past and they came to parliament through nominations. The presence of electables is vital for any political party to survive.