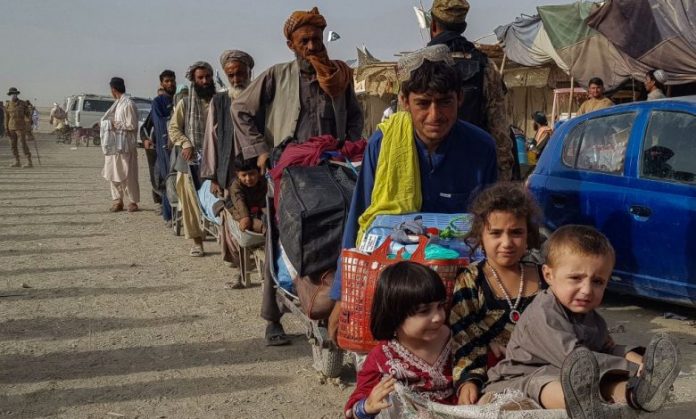 PESHAWAR: Pakistan has completed arrangements in case of possible arrival of Afghan refugees.
Sources said Afghan Commissionerate has identified locations for possible formation of camps for Afghan refugees near three border crossing points with Afghanistan in case of any such eventuality. Such camps may be established in Khyber tribal district near Torkham border and North Waziristan tribal district near Ghulam Khan border.
The sources further said that Afghan refugees camps may be established near Arund crossing point with Afghanistan in case of need. The sources said about 500,000 Afghan refugees may arrive in Pakistan if the situation deteriorated there.
Commissioner Afghan Refugees Abbas Khan said Pakistan has decided not to allow entry of more Afghan refugees. However, he said, in case of any human tragedy, Pakistan will be prepared for any emergency situation.
The government ministers and advisers have already made it clear that no more Afghan refugees would be allowed in Pakistan. Adviser to Prime Minister on National Security Moeed Yusuf during his recent visit to the United States clearly stated that Pakistan cannot bear the burden of more Afghan refugees. Federal Interior Minister Sheikh Rashid Ahmed had also stated recently that no more Afghan refugees are coming to Pakistan.
Pakistan had been concerned about a fighting spillover from Afghanistan and shut its border prior to the Taliban's takeover. But keeping in view the prevailing situation, the border was reopened for trade and restricted pedestrian movement. Pedestrian movement on the border has significantly reduced since the Taliban takeover, while trade volume has reportedly increased. Pakistan is wary of the fact that militants disguised as civilians may enter Pakistan and create law and order situation. That's why the checking process at the border has been made stricter.
Pakistan is also fencing its long border with Afghanistan to keep out the illegal entrants and ensure security and avoid cross border militant attacks. Most part of the fencing has been completed, while the remaining part is expected to complete soon. The huge project of fencing was always opposed by the previous Afghan government, but Pakistan insisted that it was necessary for security needs. For Pakistan, it proved very beneficial as cross border attacks have reduced significantly after fencing of the border.
Hits: 11