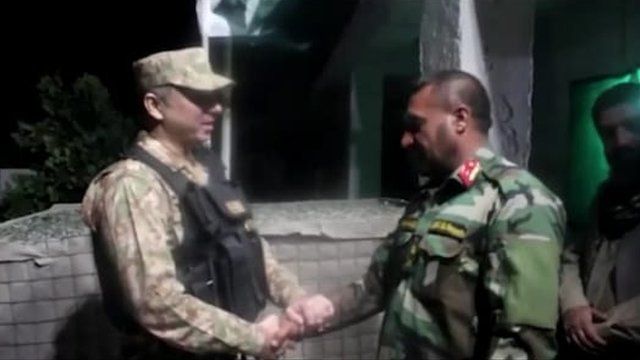 PESHAWAR: The security situation in Afghanistan is going from bad to worse after departure of foreign troops and skirmishes have also reached Pakistani border areas after which Pakistan has stepped up security along the border and prepared for any challenge.
As many as 46 soldiers of the Afghan National Army (ANA) and Border Police were granted refuge and safe passage by the Pakistan Army, according to an Inter-Services Public Relations (ISPR) statement.
The ISPR said the Afghan National Army local commander opposite Arundu Sector, Chitral, requested Pakistan Army for refuge and safe passage for 46 soldiers of ANA and Border Police, including five officers, as they were unable to hold their military posts along Pak-Afghan border due to evolving security situation in Afghanistan. Pakistan Army contacted Afghan authorities for information and necessary formalities.
These Afghan soldiers arrived at Arundu Sector late Sunday night. After contact with Afghan authorities and necessary military procedures, 46 soldiers, including five officers, were given refuge/safe passage into Pakistan. Afghan soldiers were provided food, shelter and necessary medical care as per established military norms, the ISPR said.
Previously on July 1, 35 Afghan soldiers also requested Pakistan Army for refuge/safe passage due to inability to hold their military post along Pak- Afghan border. They were also given safe passage into Pakistan and handed over to Afghan govt authorities after due procedure.
Earlier, more than 1,000 Afghan security personnel fled across the border into Tajikistan following Taliban advances in northern Afghanistan.
On Monday, Pakistan reopened Chaman border crossing with Afghanistan that is currently under Taliban control on the Afghan side.
Pakistani customs officials said over a 100 trucks carrying goods were allowed to cross into Afghanistan on Monday.
The Chaman-Spin Boldak crossing was closed by Pakistan for commercial traffic since fierce fighting for control of the crossing erupted between the Taliban militants and Afghan security forces earlier this month.
The border will now remain open six days a week. Traders were demanding letting trucks pass through as the goods they were carrying would otherwise perish.
Hundreds of Afghan soldiers and civil officials have fled to neighbouring Pakistan, Tajikistan and Iran in recent weeks after Taliban offensives in border areas.
All these developments came at a time when relations between Pakistan and Afghanistan have taken a sharp downturn recently due to repeated allegations by Kabul that Pakistan was backing the Taliban – a charge Islamabad strongly denies. Pakistan says it can only request Taliban to shun violence, but cannot command them.