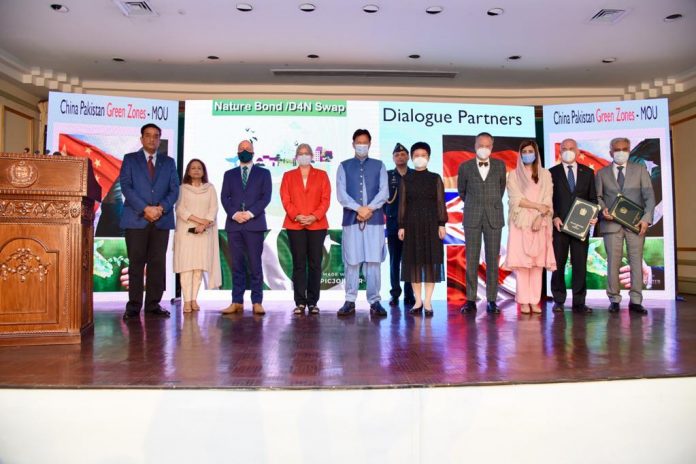 PESHAWAR: Prime Minister Imran Khan Thursday said that Pakistan will lead global efforts to tackle the challenges posed by climate change.
The premier said this while addressing a special event on Green Financing Innovations. The prime minister emphasised the need for achieving the one billion tree plantation target to protect the environmental future of the country. He said it is imperative to set up national parks and plant trees.
Imran Khan said it is encouraging that people have started raising awareness about tree plantation as even schoolchildren are taking part in the campaign.
Imran Khan pointed out that Pakistan contributes to global carbon emission less than 1 percent yet it is one of the most vulnerable countries in respect of effects of global warming due to glacier melting.
On the occasion, a joint statement was signed to initiate dialogue with the United Kingdom, Germany and Canada for Pakistan's first Nature Bond, and the possibility of a "Debt for Nature" Swap.
The joint statement said Pakistan is amongst the most vulnerable countries in the world to the negative impacts of climate change. "To combat climate change impacts, Pakistan has spearheaded innovative initiatives such as the Billion Tree Tsunami for which it has received international recognition; biodiversity and nature preservation initiatives; and, a green stimulus package to ensure a rapid recovery from the COVID-19 pandemic," it said.
By mainstreaming adaptation and mitigation through ecologically targeted initiatives covering afforestation, biodiversity conservation, Pakistan will position itself firmly on an environmentally resilient pathway to sustainable growth and prosperity. As part of its climate-resilient growth initiatives, Pakistan is endeavouring to establish a Nature Performance Bond with a defined set of ambitious ecosystem restoration targets to provide Pakistan with accelerated access to finance for development.
"The governments of UK, Canada, and Germany appreciate the government of Pakistan's efforts towards launching this innovative initiative which could contribute significantly to promoting action on climate change and sustainable development. We are looking forward to eng age in dialogue on the modalities of such a Nature Performance Bond that could enable a green recovery and accelerate natural capital restoration action in the country," the joint statement said.
Hits: 1