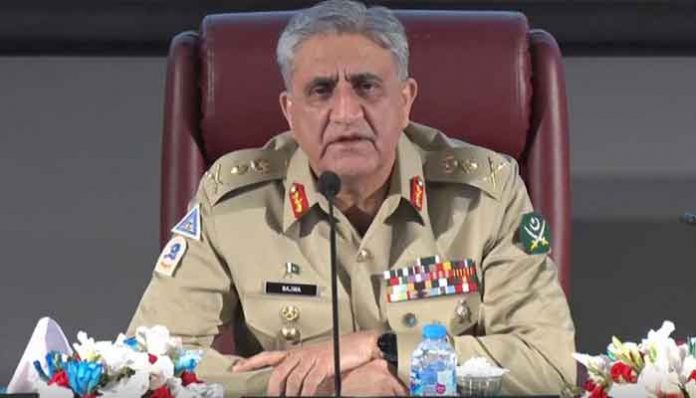 ISLAMABAD: Chief of Army Staff (COAS) General Qamar Javed Bajwa on Thursday said Pakistan will not provide airbases to the US if the government has decided against it.
The army chief attended a military and intelligence briefing to parliamentarians on national security and the Afghanistan situation. After the meeting the journalists asked the COAS about Pakistan's position on handing over airbases to US. The army chief first responded that this question should have been asked from the government. However, upon insistence of journalists, the COAS said no base will be given to the US and it is a decision for the government, not the military.
Already, Prime Minister Imran Khan, Foreign Minister Shah Mahmood Qureshi and the Foreign Office through different statements have made it clear that Pakistan would not provide airbases to the US this time when it is withdrawing troops from Afghanistan. The Afghan Taliban had also warned neighbouring countries of consequences if they provided airbases to US.
The US had requested Pakistan to provide airbases to keep a check on the situation in Afghanistan and stop it from falling into the hands of terrorists as there is fear about civil war in Afghanistan after the US troop drawdown.
In the Parliament, the political leadership of the country was Thursday given a detailed briefing by the military leadership on the worsening situation in Afghanistan and its possible impact on Pakistan. The briefing was given by Director-General Inter-Services Intelligence (ISI) Lieutenant General Faiz Hameed. COAS General Qamar Javed Bajwa and DG Inter-Services Public Relations (DG ISPR) Major General Babar Iftikhar also attended the briefing.
The ISI chief briefed the parliamentarians on the current situation in Kashmir and Afghanistan, besides the internal and external security situation, and the challenges arising due to the evolving nature of developments in the region. The session was told that Pakistan played a highly positive and responsible role in the Afghan peace process. It was shared that Pakistan's efforts paved the way for dialogue between Afghan factions and warring groups.
It was shared that Pakistan would welcome a government that was truly representative of the Afghan people, and that it would continue its responsible role for peace in Afghanistan.
Hits: 1