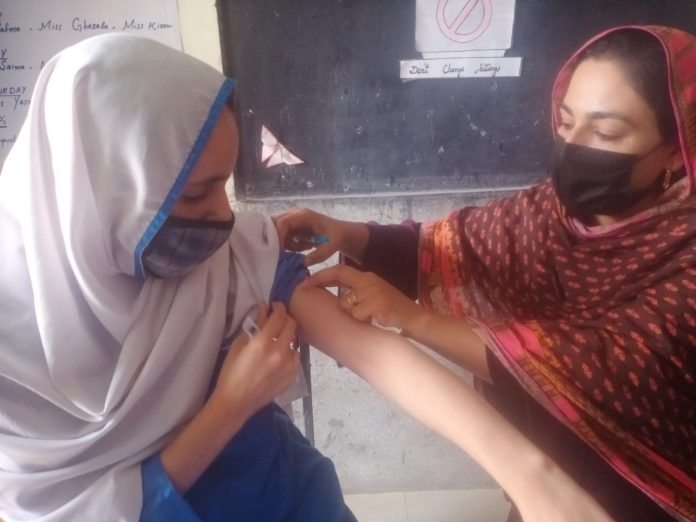 Aneela Nayab
PESHAWAR: A woman from Peshawar, who had to adopt a girl because she did not have children, says she now cannot risk the same deficiency for her daughter with coronavirus vaccination.
The woman, Fauzia, apparently believes into rumours that corona vaccine renders women infertile. "I had to adopt a girl due to infertility issues. Now I want my daughter to get married and have children. I and my husband fear that the vaccine may affect our daughter badly. We cannot take this risk," she said while talking to TNN.
Through a notification, the National Command and Operation Centre (NCOC), the nerve centre of national response to the pandemic, has asked the educational institutions to submit data of students aged between 15 to 18 years so that the vaccine doses could be provided to them. The mobile teams of the Health Department will visit different educational institutions to administer coronavirus vaccine to students.
While some parents support vaccination of their children, there are many others who strongly oppose the move.
Farzana, whose daughter is a student of ninth grade, says the teachers of school would have to accept the blame if anything happens to her daughter after vaccination.
However, some parents are supportive of vaccination to their children. A woman says all her family members have undergone vaccination and now they consider them safe from the disease to a great extent. She says parents want safety for their children, and she believes that the vaccination will bring that safety. She says she also initially had doubts about the effectiveness of the vaccine, but finally came to conclusion that it is good and for our own benefit.
Principal of a government school says the government has asked schools to vaccinate students aged between 15 to 18 years, but many parents are unwilling and they are directly telling the teachers that they would be responsible if any adverse reaction happened to their children.
Vaccination section in-charge at the Lady Reading Hospital (LRH) Peshawar Muhammad Zubair Bhatti says the vaccine is safe for students. He says the Pfizer vaccine is being provided to Pakistani students, which is being provided to children above five years of age in the US.