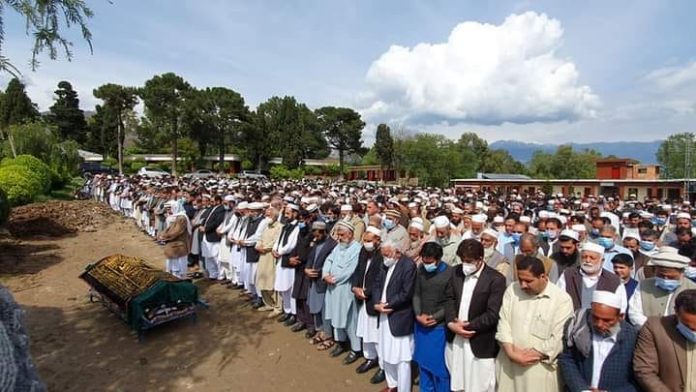 Usman Khan
PESHAWAR: Former vice chancellor of Islamia College University Peshawar, the teacher of thousands of students, Professor Dr Habib Ahmed has died of coronavirus and his funeral was offered in Swat.
Prof Habib Ahmed was a down to earth person and he used to meet everyone with a smiling face. He worked a lot for promotion of Pashto language in Islamia College although his predecessor VC Ajmal Khan closed the Pashto Department for being causing financial losses to the institution. However, Prof Habib Ahmed after taking charge as VC ordered establishment of Pashto Department even if a single student was interested in taking admission in it. And then he announced half fee remission for students of Pashto Department.
"Pashto is our mother language. It needs investment and it shouldn't be just a source of income." These were Dr Habib's thoughts about the importance of the mother language. The half fee remission practice is still continuing in the Pashto Department and the students always pay tributes to Prof Habib Ahmed for this arrangement.
Besides Islamia College University, Prof Habib Ahmed also served as VC of Hazara University. His services for the field of education are recognised by everyone.
Head of Pashto Department in Islamia College University, Prof Abaseen Yousafzai says the services of Prof Habib Ahmed for Pashto language are for everyone to see. He told TNN that Dr Habib Ahmed resolved the long standing problems of Islamia College University after taking charge as VC. He said the influx of students increased enormously after the Islamia College got the status of university and Prof Habib Ahmed used all his experience to ensure early completion of the new blocks to accommodate maximum students. He said Prof Habib Ahmed introduced many new disciplines in the university and his expertise in research was second to none.
Prof Abaseen Yousafzai said Prof Habib Ahmed was a straight forward person and he believed in hard work rather than verbosity.
Prof Habib Ahmed belonged to Matta tehsil of Swat. He was born on July 13, 1959. He got education up to graduation level from Swat, completed M.Phil in Cytogenetics from the University of Peshawar and got PhD in the same field from the University of Punjab.
Dr Habib Ahmed was awarded with Tamgha-e-Imtiaz by President of Pakistan in recognition of his services on March 23, 2011. He also got best university teacher award from the Higher Education Commission. He also got Productive Scientist of Pakistan Award consecutively from 2011 to 2016 which is a record.
The list of awards is long, but his real award is the hundreds of students who got the opportunity of learning Pashto and serving the field of literature and the country at large due to his efforts.
Hits: 0