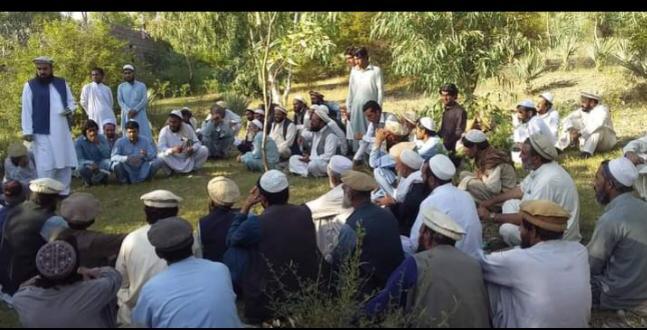 SADDA: The tribal elders in Manatu area of central part of Kurram tribal district have demanded the government and elected parliamentarians from the area to take steps for resolution of problems of the area.
The demand was made at a Jirga of the local 15-member committee and tribal elders in Manatu on Wednesday.
Tribal elders and committee members including Haji Fazal Khanan, Sarwar Khan, Mazeed Khan, Nabi Jan, Dildar Khan, Haji Nawab Khan, Farooq Khan and others said at the Jirga that Manatu area is deprived of basic facilities. They said people of the area played an important role in victory of the ruling Pakistan Tehreek-e-Insaf (PTI) candidate Malik Fakhar Zaman Bangash in the recently-held by-election in Kurram and now they expect him to play role in resolving the long standing problems of the area. They said the lawmaker must take immediate and effective steps for providing basic facilities in the area.
Participants of the Jirga said there was shortage of staff in the basic health unit (BHU) in Manatu. They said a doctor must also be provided at the BHU along with other health staff. They said the area needs installation of three new tube wells, pavement of streets and construction of 24-kilometre road. They also demanded the government to address the problem of shortage of teaching staff at boys and girls schools in Manatu and establishment of residential quarters. They said the students are facing problems due to shortage of staff and their studies are being affected. They said there is no shortage of educated and talented youth in the area who can fill the vacancies and serve the area and the nation. They said jobs must be provided to the local youth to keep them away from negative activities.
The Jirga participants said many houses were left out of survey for compensation of damages which happened during militancy. They said a fresh survey must be conducted in the area to include the leftover houses so that all the deserving people could get compensation. They said the people of Kurram tribal district offered a lot of sacrifices for peace in the region, and they deserve reward for their sacrifices.
Hits: 1