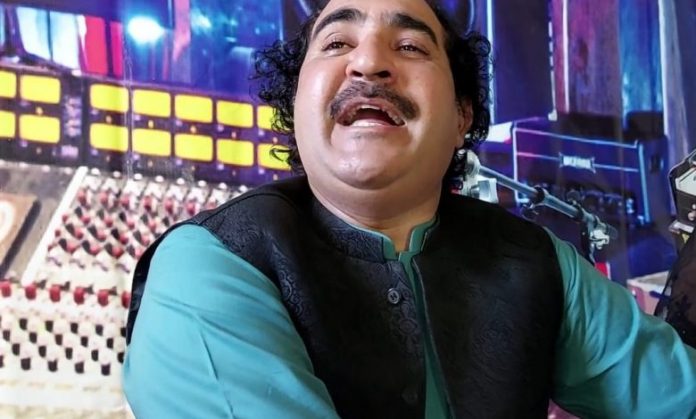 Khalida Niaz
PESHAWAR: Famous singer from Hangu Ishrat Sahar says the era of recording songs and albums in cassettes has gone and now artist are uploading songs on YouTube.
Ishrat Sahar, who lives in Peshawar to pursue his passion for singing, said in an interview with TNN that his family has old association with music. He said his two brothers, Gul Nawaz and Hashmat Sahar, are also associated with the field of singing.
Ishrat Sahar also worked in a boutique
Ishrat Sahar has sung a lot of songs, but like other fields, coronavirus also impacted the field of singing. He said marriage functions were banned during coronavirus lockdown and music programs also came to a halt.
During the current third wave of coronavirus, the government has again imposed ban on indoor wedding programs.
Ishrat Sahar said he also used to work in a boutique in Kohat to make ends meet, but now he is dedicating his full time to music.
Ghazal is essence of music
Ishrat Sahar said he loves ghazal a lot which he believes is the essence of music. He said he likes the ghazals of Rehman Baba, Hamza Baba and Rehmat Shah. He said he also has deep love for Pashto. He said he sang all his songs in Pashto as he wants to serve his mother language through the field of music.
Ishrat Sahar said he also gets satisfaction in serving humanity. He believes that there is a huge difference between old and new songs. To cite an example, he said, people even enjoy the old songs of Khial Muhammad today, but most the songs of present time are devoid of poetry and proper music.
"People spend a lot of wedding functions, but they are not so generous towards artists. It's the music function which makes the wedding functions more enjoyable," he said.
Mindset about artists needs to change
Ishrat Sahar believes that people although like the art, but don't give the artists the honour which they truly deserve. He said the mindset of people about artists needs to change as artists are an asset for the nation and they deserve great respect.
Ishrat Sahar said every singer must select his/her songs only with good poetry. She said the emphasis must be on quality, not quantity. He said his new album would be released on Eidul Fitr. He said he has selected his songs very carefully and he is hopeful that fans would like it. He said he has also participated in music programs in Qatar, Masqat and Dubai where his work was appreciated.
"People like to listen to the songs, but look the other way when they see them at some public place," he said.
In his message for general people, he said life is too short and it should not be wasted in harbouring feeling of hatred against anyone. He said the only way to stay happy is to spread the message of love and respect.
Hits: 2