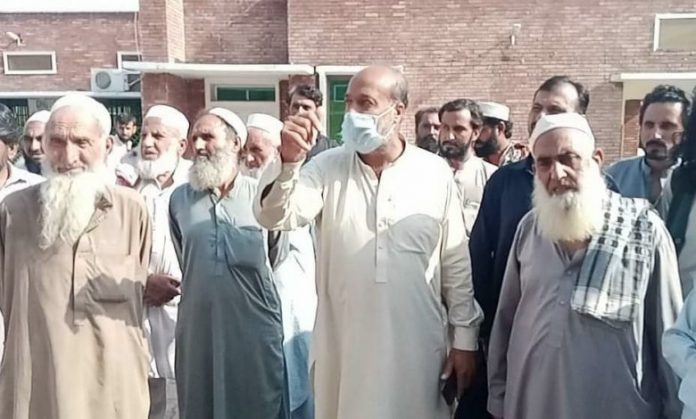 BARA: People coming for coronavirus vaccination at Dogra Hospital Bara in Khyber tribal district on Monday staged protest against mismanagement and alleged favouritism at the vaccination centre.
The protesting people said they came to the vaccination centre of the hospital, but could not get it due to incompetence and mismanagement by the staff. They alleged that only the relatives, friends and favourites of the vaccination staff get the jab, while others are asked to come on another day on pretext of unavailability of internet.
People at the vaccination centre said they waited for their turn for several hours, but the staff kept on preferring blue-eyed persons to get the facility. They said they were compelled to hold protest over this unbecoming behaviour of the staff.
The protesters said the government is repeatedly emphasising the importance of vaccination and also imposing strict restrictions on those who don't have undergone vaccination, but on the other hand, those coming for vaccination are mistreated at vaccination centres.
The hospital sources told TNN that data entry is not possible when internet facility is not available and that's the main reason that some people had to return without getting the facility. Social circles have expressed concern over this issue and demanded the Health Department to take notice of the situation.
Earlier this month, people coming for corona vaccination at District Headquarters Hospital Landikotal also complained about difficulties due to lack of facilities. They had demanded increase in vaccination supply and other facilities at the vaccination centre.
A large number of people, including women, visit District Headquarters Hospital Landikotal for first and second dose of corona vaccination under the government directives. However, due to shortage of staff and vaccination doses, long queues are witnessed outside the vaccination centre where people wait for several hours for their turn in extreme hot weather. The local women had to come to the hospital early in the morning and then they wait for vaccination for several hours.
Hundreds of people had to return home after the whole day wait without vaccination. The local people said the government should increase staff at the vaccination centre and also establish a separate vaccination centre for women so that they could administer vaccine without any cultural hindrance. Currently, there is no separate vaccination centre for women, due to which they are facing a lot of difficulties.