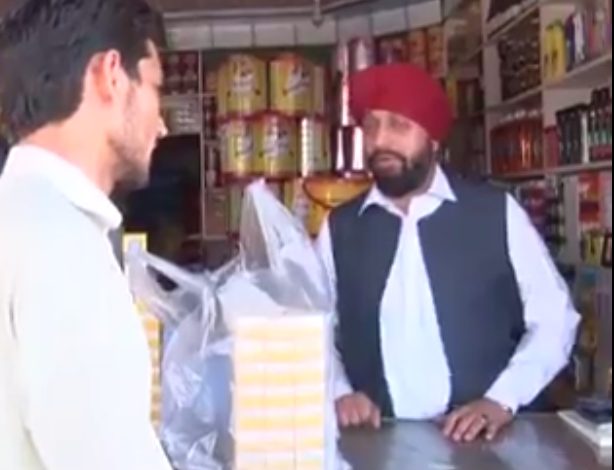 PESHAWAR: The Peshawar High Court (PHC) on Thursday acknowledged and praised the gesture of a Sikh shopkeeper in Jamrud Bazaar of Khyber tribal district who sales essential items without profit during the holy month of Ramazan.
The court while hearing a case about sky-rocketing price-hike praised the Sikh shopkeeper and said other shopkeepers must also follow his example.
Chief Justice Qaiser Rashid said during hearing of the case that despite being a non-Muslim, the Sikh shopkeeper has sympathy with customers during Ramazan. He also directed the deputy commissioner of Khyber tribal district to visit the Sikh shopkeeper, Naranjan Singh, and support him.
As the holy month of Ramazan beings in Pakistan, vendors and shopkeepers fully cash in the needs of customers and fleece them mercilessly. The general public is always seen asking the question why the government always fails to stop the profiteers and provide relief to people.
Contrary to the general behaviour, Naranjan Singh is keeping up his tradition of giving up profits every year during Ramazan. He says he earns enough during the 11 months and even pays from pocket the salaries and rent of his house during Ramazan and the practice is going well.
It is not less than a surprise for the customers to see a Sikh shopkeeper selling items without profit margin, while the rest of shopkeepers are either selling things on normal profits or indulging into profiteering.
The PHC chief justice said Naranjan Singh is a role model for others to follow.
During the hearing of the case, the PHC asked the government to take solid measures to control the unprecedented price-hike.
The chief justice said the federal and provincial governments should find a solution to control inflation. He said the prices of food items are going beyond the reach of a common man. He said the situation is bad not only for the poor, but even for the middle class.
The court directed the administration to act against profiteers. It said the food export policies must be framed keeping in view the local requirements.
The court was told that the prices of meat and chicken increased due to a decrease in production. It was informed that action is being taken daily against the hoarders and profiteers.
Hits: 0