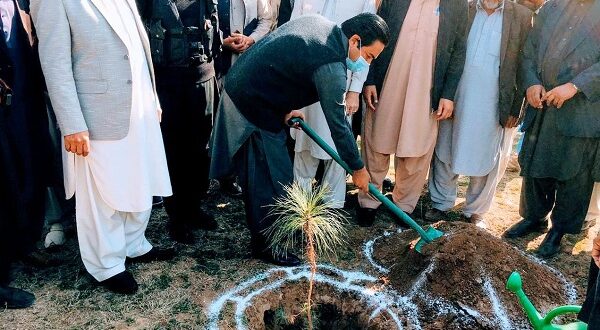 KHAR: Plantation campaign was initiated in Bajaur tribal district on Friday under 'Plant for Pakistan' campaign.
The plantation campaign was launched at District Headquarters Hospital Khar. Deputy Commissioner Fayyaz Sherpao formally inaugurated the campaign by planting a sapling in the lawn of the hospital.
Additional Deputy Commissioner (General) Zameen Khan Momand, Additional Deputy Commissioner (Finance and Planning) Sohail Aziz, Assistant Commissioner Nawagai Habibullah Wazir, District Forest Officer (DFO) Inamullah Dawar and Medical Superintendent Dr Wazir Khan Safi also participated in the campaign by planting saplings.
Speaking on the occasion, the deputy commissioner urged the people to grow more trees to improve the environment and mitigate the impact of climate change.
"We had set a target of planting 4 million trees in Bajaur and 2.4 million saplings have already been planted, while the process of planting the remaining 1.6 million saplings will be completed by June this year," he said.
The deputy commissioner said forests are important for good environment and there are countless benefits of trees. He appreciated the enthusiasm of the local people in the plantation campaign and said he is confident that Bajaur will become a role model for other areas.
Fayyaz Sherpao said growing more trees is the best answer to the increasing impact of climate change. He said Pakistan is situated in a region where the impact of climate change is greater, so the people of the country, particularly in Khyber Pakhtunkhwa, must be prepared for it. He said everyone must put his/her share in the plantation campaign to keep the environment clean and make sure that no shortage of trees happens in future.
Plantation campaign in Nowshera
Tree plantation campaign is also continuing in Nowshera in full swing.
Assistant Commissioner Pabbi Sania Safi kicked off plantation campaign at Government Girls Degree College Pabbi. A total of 1,500 saplings were to be planted under the 'Plant for Pakistan' campaign in the area.
The assistant commissioner said the plantation campaign is a message for everyone to plant trees for the coming generations of Pakistan. She said the government is committed to make the country clean and green. She appreciated the role of students in making the campaign successful.
Hits: 14